Ceiling Fans Information
Ceiling fans are suspended from the ceiling of a room to provide a cooling or de-stratification effect. To circulate the air, they employ hub-mounted, rotating paddles that are made of metal or plastic. Many ceiling fans are equipped so that they can be used for heating or cooling. These products often have a mechanism, such as an electrical switch, for changing the direction of the air flow. Ceiling fans with programmable, computerized, and remote controls are also available.
Types of Ceiling Fans
There are many different types of ceiling fans. Examples include commercial and industrial ceiling fans, hugger or low-profile ceilings fans, outdoor ceiling fans, and Energy Star ceiling fans.
Commercial ceiling fans and industrial ceiling fans are designed for use in offices, factories, warehouses, and other related settings. They are designed to be cost-effective, and may provide a business with significant energy savings.
Image Credit: Marley Engineered Products
Most industrial ceiling fans have three large blades and a high-speed motor. These types of ceiling fans are efficient at pushing massive amounts of air when compared to residential fans.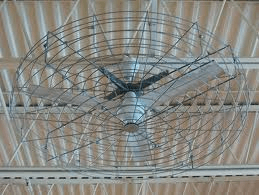 Image Credit: fansupdate.blogspot.com
Hugger or low-profile ceiling fans are installed as close to the surface of the ceiling as possible, but without scraping from the blades. Typically, hugger ceiling fans are installed in rooms with low ceilings in order to maximize head-space.
Image Credit: lampsplus.com
Outdoor ceiling fans are also available. These devices may be used in covered locations outside of the home, such as a porch. Outdoor ceiling fans are often made from materials that can withstand cold, heat, humidity, and other environmental factors. These fans may include rust-proof finishing and non-warp blades.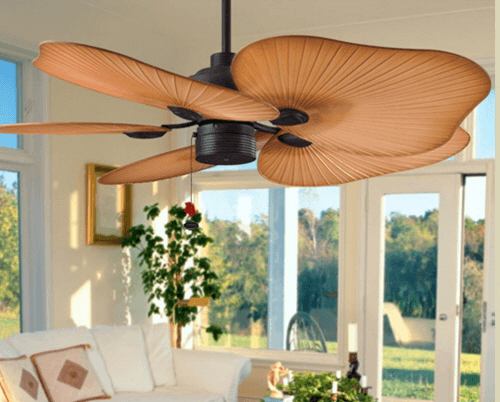 Imaged credit: sitazine.com
Energy Star ceiling fans are manufactured with the Energy Star label. This designation indicates that ceiling fans can save up to one-third of the current energy costs in a home or business environment. Energy Star is a joint program of the U.S. Environmental Agency (EPA) and the U.S. Department of Energy (DOE). In some instances, the purchase of Energy Star products may provide the buyer with the opportunity for a rebate.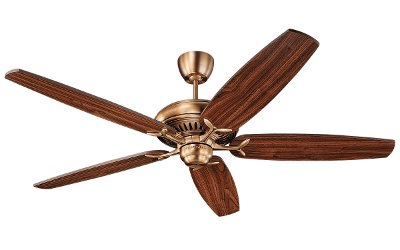 Image credit: 1001 Home Efficieny Tips
Specifications
There are many factors to consider when choosing ceiling fans. Product specifications include length of the fan's blades, surface area of the blades, speed of rotation, height of the fan in comparison to the ceiling, and blade surface area to air-feed ratio.
Selecting ceiling fans should also account for factors such as the height of equipment or office, as well as the relative humidity and ambient air temperature.
Standards
Standards for ceiling fans can be found on the IHS standards store.