Eyewear Information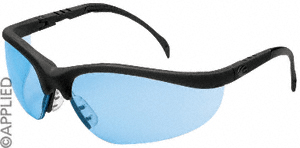 Image Credit: Applied Industrial Technologies | Laserglow Technologies | U.S. Plastic Corporation
Eyewear includes safety devices such as safety goggles that are worn to protect the eyes from flying debris, chemicals, heat, and light. Eyewear is an important safety consideration in manufacturing environments where operators use drilling, sanding, welding, or cutting equipment, or where toxic chemicals are used in production. Protective eyewear is also vital in laboratory and research settings to protect the eyes from chemical reactions, intense light, or radiation.
Glasses Vs Goggles
Eyewear can include safety glasses that provide moderate protection to safety goggles that cover the eyes and offer a protective seal around the top, bottom and sides of the face. A safety goggle offers some protection against fluids, mists, and particulates contacting the eye, but does not protect against gases or fumes. Moreover, safety goggles are usually unsuitable for protecting the eyes from intense light. Some safety eyewear comes with tinting options that may provide some moderate protection against ultraviolet (UV) light. Polymeric or filter glass laser eyewear is used for operating laser equipment and may be designed with a variety of filters such as broadband or narrow band, or filters that enhance laser alignment and color recognition. A laser helmet has passive reflectors for reflecting a scanning light beam from a laser source.
Eyewear In Welding
Welding requires the use of specialty eyewear such as welding goggles or welding helmets to protect the eyes from the intense light produced by the welding equipment. Welding goggles fit tightly to the face, sealing out particulate matter that may also be in the air from the welding process. A welding goggle may be constructed using two separate lenses, like glasses, or may use a single fixed plate design that fits securely into the goggle frame. For intensive welding, such as arc welding, operators may wear an auto darkening welding helmet, which is a helmet complete with a face shield, a special fixed glass lens, and sensors which can quickly adjust the darkness of the lens according to the intensity of the light.
Standards
Some standards that are associated with Protective Eyewear
CSA Z94.3.1

- SELECTION, USE, AND CARE OF PROTECTIVE EYEWEAR

MIL-PRF-31013

- SPECTACLES, SPECIAL PROTECTIVE EYEWEAR CYLINDRICAL SYSTEM (SPECS)

ISO 12609-1

- EYEWEAR FOR PROTECTION AGAINST INTENSE LIGHT SOURCES USED ON HUMANS AND ANIMALS FOR COSMETIC AND MEDICAL APPLICATIONS