Thread Tapes Information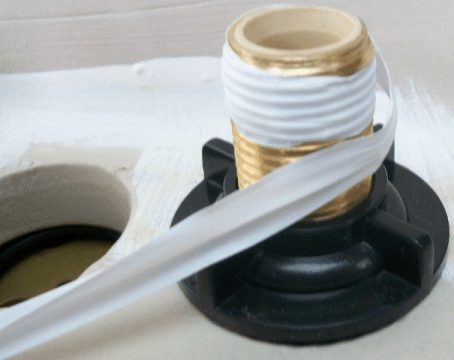 Thread tapes are used to seal, lubricate, and prevent seizure on threaded bolts, studs, and fittings. They are commonly referred to as:
Teflon tape
PTFE tape
PTFE thread seal tape
plumber's tape
Thread tapes are usually made of polytetrafluoroethylene (PTFE), a highly crystalline, perfluorinated polymer that is better known by its DuPont brand and registered trademark—Teflon. PTFE tape has an extremely low coefficient of friction, good chemical resistance, and good heat resistance. Chemical inertness prevents cross-linking and makes PTFE thread tapes a good choice for applications that involve corrosive chemicals such as liquid oxygen, or caustics such as ammonium hydroxide. Thread tapes can also be made of polyethylene (PE), a low-cost plastic that resists water and many chemicals.
Specifications
Thread tapes carry specifications such as:
density
tensile strength
elongation
dimensions
substrate compatibility
PTFE thread tape suppliers describe their products as either high-density or low-density. High-density PTFE thread tapes usually have a density of .70 g/cm3 or 1.2 g/cm3. Low-density PTFE thread tapes usually have a density of .37 g/cm3. Tensile strength is the force required to break a piece of thread tape by pulling on opposite ends. Elongation is the fractional increase in a thread tape's length due to stress in tension or to thermal expansion. Important dimensions for thread tapes include length, width, and thickness. With regard to substrate compatibility, some Teflon tapes are designed for use with pipes, tubes, or conduits made of aluminum, black iron, or brass. Other PTFE thread seal tape adheres to chrome, copper, glass, plastic, or rubber.
Standards
PTFE thread tapes follow two basic quality standards and are color-coded for a variety of applications. MIL-T-27730A is a U.S. military specification (MIL-SPEC) that specifies a minimum thickness of 3 mils. A-A-58092 is a commercial standard that maintains the thickness requirement of MIL-T-27730A, but adds a minimum density standard. White PTFE thread tape provides tight seals for a variety of threaded joints and is suitable for most plumbing and potable water systems. Yellow PTFE thread tape is designed for use with pipes, conduits, bolts, valves, and threaded gas lines that carry air, ammonia, butane, chlorine, or hydrogen. Pink Teflon tape is made of heavy-duty, industrial grade PTFE and is used in commercial or industrial plumbing applications. Green Teflon thread tapes may be used in oxygen-handing applications.
Related Information
CR4 Community—What Do You Feel About Using Teflon Tape on Gas Cutting Equipment?
CR4 Community—PTFE Thread Seal Tape Density
CR4 Community—PTFE on Gas Service Not Approved
CR4 Community—Sealing an "O" Ring