Tapered Roller Bearings Information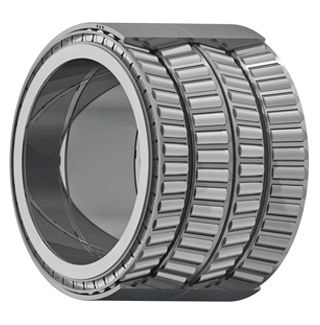 Tapered roller bearings contain an inner ring, outer ring, and a number of tapered rollers. Looked at individually, the inner and outer bearing rings are also tapered, resembling a cone segment. Due to the large surface area contact, tapered roller bearings are able to withstand heavy axial and radial loads.
Tapered roller bearings have unique design characteristics compared to other types of roller bearings. The rollers themselves have end diameters with two different sizes, hence the name "tapered rollers." The raceways in which the rollers operate have an angled surface corresponding with the taper of the rollers which makes these rings resemble segments of a cone; the inner raceway is in fact called a cone, while the outer raceway is known as a cup. Rollers are separated by a cage, also referred to as a retainer, that keeps the rollers a fixed distance apart, ensuring a smooth rotation and even load distribution. Rollers themselves are actively aligned by the angle surfaces of the rollers, cones, and cups, so the cage mainly serves to evenly space the rollers and contain them within a unified assembly. Flanges prevent the roller and cage assembly from leaving the bearing raceway at high speeds. In theory, if the tapered rollers, cone, and cup were fulfilled as geometric cones, the apex of each would meet at the same point on the main axis of the bearing.
These aforementioned dimensional profiles ensure that loads are uniformly stressed across all components under normal loading scenarios. Due to their reliability in bearing both axial and radial loads, tapered roller bearings are quite versatile.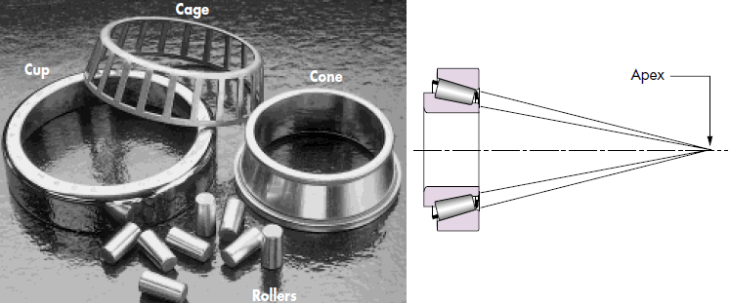 Components
Rollers
Axial and Radial Loads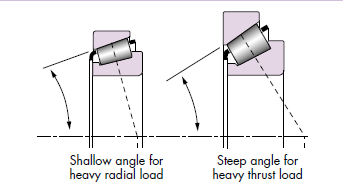 The angle formed by the line of contact between the cup and rollers and that of the bearing's bore axis determines the type of load for which the bearing is well-suited. The larger the angle, the better the bearing is able to handle thrust loads, but the capacity to handle radial loads is proportionally reduced. Axial loads can only be endured in one direction for bearings equipped with a single row of tapered rollers.
Axial-Only Loads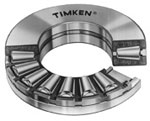 Similar to other types of roller bearings, tapered roller bearings are also manufactured in the thrust variety. In this instance, the rollers are placed in a configuration in which their axes are perpendicular to the axis of the bearing bore. The larger diameter end of each roller is placed further away from the bore than the smaller diameter end. No cones are utilized for this configuration; rather two matching cups and the cage contain the bearings within the assembly.
Multiple Roller Rows
Since tapered roller bearings which utilize a single row of rollers can only accommodate axial thrust in one direction, manufacturers will place paired rows of rollers adjacently in the bearing so thrust along either direction of the bearing axis is endured. Rollers with two rows or four rows of tapered rollers are most common.
Bearings with two rows are classified based on how the rollers are oriented and how other components are machined.
| | |
| --- | --- |
| Tandem bearings have roller rows which are placed next to each other with the same load-bearing orientation. This is only for instances where a single row does not meet the load requirements and a larger bearing diameter is unacceptable. | |
| Double-cup tapered roller bearings locate the rollers so that their apexes face each other. The outer raceway features two grooves in a single-piece construction, while the inner raceways are separate cones divided by a spacer. | |
| Double-cone bearings place the rollers in a configuration where their hypothetical apexes would extend away from each other. In this instance the inner raceway is of single-construction, while the outer raceway is a two-piece construction assembled with a spacer and additional hardware. | |
| Spacer-assembled double-row bearings are any two single-row bearings which have been compiled into a single assembly by the use of spacers and hardware. Nearly any two single-row bearings can be provided in a preconfigured, spaced assembly. | |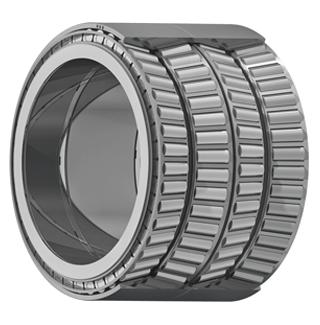 Those bearings which utilize two pairs of tapered roller rows are valued for their exceptional bidirectional load-bearing capabilities, as well as the roller orientation permutations available. They are often employed on the roll necks of rolling mill equipment. Such bearings are typically constructed of two double cones, one double-cup raceway, two single-cup raceways, and associated bearing spacers. Four-row bearings are also produced with a narrowing bore, so as to press-fit onto shafts. Such designs may deviate from the typical construction of four-row tapered roller bearings.
Cages
The cages of tapered bearings are somewhat different than the cages of other bearing types. The most common type of cage implemented is the pin cage. Two differently-sized rings are machined, one of which has a series of pins which extend from its circumference and upon which the rollers are threaded. The other ring is welded to the ends of the pins to contain the rollers and cage in a unified assembly. Polymer cages are most common, but some non-ferrous metals are also used. More rollers results in a higher load capacity, but reduces the bearing's capabilities in high speeds, dynamic loads, vibration, and deceleration.
Lubrication
Like all types of roller bearings, lubrication is an essential part of the bearing's efficient operation. While the potential for the sliding or scrubbing of rollers in this type of bearing is considerably less than other types of bearings, lubrication helps reduce the friction between rollers and raceways. Lubrication also helps dissipate heat and dampen operational noise. A small annular groove may run the circumference of the bearing cup to assist in lubricant proliferation. Since tapered roller bearings are easily disassembled, access holes of supplemental lubrication are not required, but sometimes included anyhow.
Synthetic oils are often used on well-manufactured bearings, and are appropriate for moderate to high RPMs. Petroleum-based oils provide quality lubrication under high stress and high speed. Mineral oils are also acceptable for high-speed rotation. Silicone-based oils protect against high heat and do not corrode in the presence of rubber, but are used solely in low-speed applications
Greases are best for moderate or high RPMs. The high-speed torque of a greased bearing is lower than an oiled bearing, but the opposite is true at lower speeds.
Dry films are never an ideal lubricant, but are used where greases and oils may not be suitable. Films are difficult to apply and produce wear flakes during operation.
Seals
Bearing seals are an effective way of preventing the bearing from being impeded by various environmental contaminants and moisture. Contact seals are those which increase friction, due to the fact that rubberized or polyurethane seal components experience some sliding against the rotating bearing. Non-contact seals do not generate additional friction, and some gap is left between the seal and the bearing. Non-contact seals are composed of steel or another hard metal, and are sometimes gap-filled with grease. It is not uncommon for bearings in high stress applications to have both types of seals.
| | | | | |
| --- | --- | --- | --- | --- |
| Non-contact, press-fit seal which shields bearings; does not prevent lubricant leakage or contaminant infiltration. | Contact, press-fit seal with nose gasket. Reliable protection from occasional contaminants. | Contact, press-fit seal with exterior nose gasket. Design excludes common heavy contaminants but allows excessive lubricant to be expelled. | Contact, inner cup-clamped seal with interior nose gasket. This seal is used in instances where the bearing exterior cannot be sealed. | Contact, outer cone-clamped seal for easy assembly and protection against common contaminants. |
| Contact, clamped seal with nose gasket; best used for bearings with a vertical axis and a need to retain grease. Not a good exclusionary seal. | Contact, press-fit seal with tolerance to bearing cavity pressures. | Contact, press-fit seal for good grease retention and contaminant exclusion. | Contact, press-fit seal where snap-ring maintains positive pressure against bearing cup, with exceptional protection against exterior mechanical intrusion. | Contact, clamped seal with two gaskets for excellent protection against contaminants. |
| Contact, spacer-mounted seal with two gaskets and excellent exclusion capabilities. | Contact, clamped seal with three gaskets for use underwater. | Contact, clamped seal for excellent protection against mechanical and contaminant intrusion, and detainment of lubricants. | Contact, clamped seal for excellent contaminant exclusion and expulsion of excess lubricants. | Contact, press-fit seal with additional snap-ring to maintain seal under excessive thrust loads. Maximum protection against contaminants and commonly-used in marine environments. |
Images credit: Clark Seals
Specifications
Lifespan
Once the components of the bearing begin to experience material flaking, the bearing is considered fatigued and immediate replacement is recommended. Lifespan can be estimated based on ISO 281. This standard estimates the bearing life, based on 90% reliability for all roller bearings, and accounts for variables such as materials, manufacturing quality, types of load, operating conditions, lubrication, and contamination.
Temperature
Thermal expansion of bearing components is inevitable, but excessive heat can be relieved by the lubricant, materials and construction of the raceways, cages, and rollers, and overall surface areas. Brief operating conditions, such as bearing start-up or a newly installed bearing, may invoke a temperature spike, but this almost always decreases. This is a result of the thermal expansion experienced by bearing components. Considerable care should be taken when selecting bearings for precision equipment.
Speed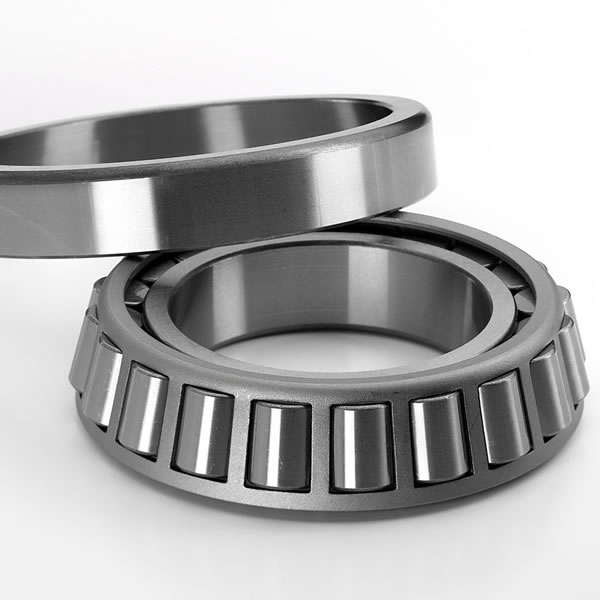 The temperature of the bearing largely dictates the operational speed. Reference speed is the speed at which the heat generated and dissipated by the bearing is at equilibrium. Limiting speed is the highest speed at which the bearing is meant to rotate. Limiting speed is not always as high as the reference speed, but it can be exceeded provided the strength of the bearing material, the friction caused by any contact seals, and the lubrication used do not impair such operation.
Torque
Bearing torque can be attributed to several variables, such as roller size, the number of rollers, cage composition, bearing tolerances, lubricant type and fill, and the bearing's load. Bearing torque is classified into three categories.
Starting torque is the measurement of the torque required to initiate rotation of one raceway of the bearing. This is substantially higher than running torque.
Average running torque is the mean level of torque the bearing is subjected to at a consistent RPM.
Peak running torque is the maximum amount of torque experienced by a bearing, but can be difficult to determine. This provides a measure of consistency for a batch of bearings.
Deflection
Deflection will occur between the tapered rollers and the raceways; specifically the ends of the rollers may adopt a more elliptical shape. Tapered roller bearings deflect less than many other types of bearings, so they are commonly used in machine tools which require an accurate shaft position. Monitored deflection of tapered roller thrust bearings is paramount, as the load distribution on the bearing moves inward, increasing contact stress along certain points and contributing to roller and raceway wear. There are many instances in which a preload, often supplied by a spring, will improve the stiffness of the bearing and improve running accuracy.
Applications
Common uses for this tapered roller bearings include:
Automotive wheel bearings; as well as in gearboxes, axle systems, and engines
Agricultural machinery shafts and lineshafts
As steady rest rollers, strip levelers, or in combination with a rail element
Helicopter transmissions
Aircraft fuel pumps
Standards
Tapered roller bearings adhere to many of the general standards outlined for roller bearings, but a collection of specific industrial standards have also been composed.
ISO10317 -- Tapered roller bearings designation system
ISO 355 -- Tapered roller bearings dimensions and boundaries
ABMA STD 19.1 -- American Bearing Manufacturers Association specifications for tapered bearings
Resources
Timken—Understanding Tapered Roller Bearings
Medias Schaeffler—Tapered roller bearings
Wikipedia—Tapered roller bearing
Images credits:
Timken | Simply Bearings Ltd. | Baxin Bearing | GKN Service | RKB Bearing Industries