Spherical Roller Bearings Information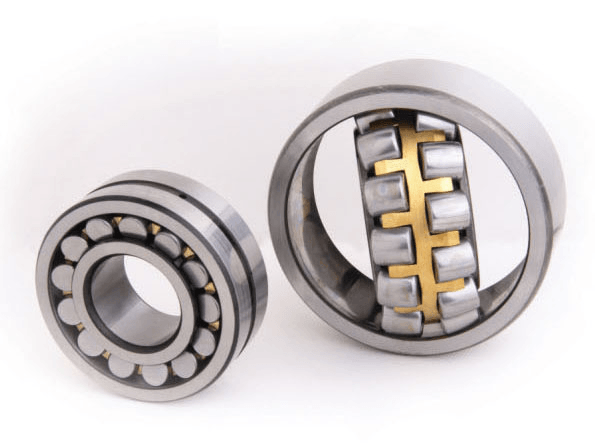 Spherical roller bearings utilize two rows of friction-reducing, barrel-shaped rollers located between an outer ring with a spherical raceway and an inner ring composed of two inclined raceways. These bearings are valued for their ability to compensate for misalignment and shock loads due to their raceway geometries, and are used in many heavy-duty industrial applications.
Operation
The unique design of the roller raceways is the most distinguishable feature of a spherical roller bearing. The inner part of the outer raceway is manufactured with a concave depression, and the outer part of the inner raceway is provided a convex protrusion. Two rows of barrel-shaped rollers are held together by a cage or cages in a fashion which complements the shape of these roller raceways. The result is a bearing with exceptional radial capacity, which can also accommodate axial loads, misalignment, or shock since the bearings are constantly reorienting themselves against the spherical raceway of the outer ring. Unlike many other types of bearings, spherical roller bearings cannot be disassembled.
This type of bearing can be mounted individually but is also commonly installed in identical pairs for shaft and axle support, with one of the bearings axially fixed, and the other mounted with a loose fit so it can float along the shaft. If the inner ring rotates it should be installed with an interference fit, since loose-fit installations can result in bearing creep, shaft wear, and an increased chance of environmental debris interference. Rotating outer rings should also utilize an interference fit between the outer ring and the housing for similar reasons. Stationary outer rings benefit from a loose fit to permit assembly and axial movement, while stationary inner rings are dependent upon the load and specifications of the application.
Video credit: RAS Bearings / CC BY-SA 4.0
Spherical roller bearings are often used for demanding applications in harsh environments, especially for instances where it is difficult to establish housing alignment or some shaft deflection is expected. If the rollers and raceways are dimensionally stabilized and heat treated, spherical roller bearings can remain effective at temperatures up to 500°F. Bearings can be manufactured with an extra-close running accuracy as well as with a reduced bore and diameter tolerances for use in vibratory and shock load applications. Spherical roller bearings are often found in gearboxes, casters, railway vehicles, mining aggregate conveyors, industrial fans, and rod mills. Due to these typical application environments, spherical roller bearings are manufactured to have a very long service life and are produced with integral seals.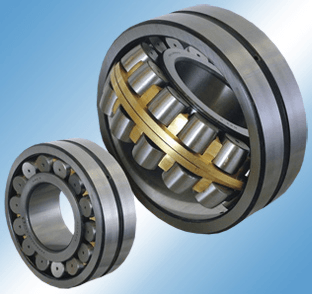 Several factors determine the effectiveness of a spherical roller bearing in a particular application, including:
The minimum load of the application. To operate a high speeds, with stable acceleration and deceleration, the bearing must have a minimum axial load applied to the rollers. This prevents damage to the cage from inertial forces as well as sliding or excessive friction. The required minimum load can be decreased with use of quality lubrication.
Operating temperature is the range of ambient temperatures in which the bearing operates most reliably. In low-temperature environments, lubricant viscosity increases thereby requiring a higher minimum load. The operating temperatures for spherical roller bearings are particularly high if heat treatment processes are performed on the bearing materials.
Reference speed is the rotational speed at which point the heat created from rotation is equivalent to the heat exhausted from lubricant and bearing geometry.
Limiting speed is the highest RPM at which the bearing is designed to operate. This is determined by: the strength of the bearing cage, quality of lubrication, the centrifugal and gyratory forces, the precision with which the bearing was manufactured, and the characteristics of the lubricant.
Bearing Lifespan
Bearing life is determined by the number of hours or rotations before the bearing experiences mechanical fatigue. Before the estimate life of the bearing can be calculated, the dynamic equivalent radial bearing load must be found, which is a single value that accounts for both axial and radial stresses.
Dynamic Radial Bearing Loads

Where:
Pr = dynamic equivalent radial load
Fr = applied radial load
Fa = applied axial load
X = dynamic radial load factor (supplied by bearing documentation)
Y = dynamic axial load factor (supplied by bearing documentation)
From this, an estimate of bearing lifespan can be identified.
| | |
| --- | --- |
| Revolutions | Service hours |
| | |
Where:
n = bearing operating speed (RPM)
Types
The diversity of spherical roller bearings is comparatively limited, with the only notable variations being the design of the inner ring, rollers, and bearing case to accommodate a particular application.
Harsh Environments
Spherical roller bearings which are sealed to prevent the infiltration of contaminants in operations where the bearing may be exposed to dirt, debris, liquids, or extreme temperatures. Such bearings require minimal service, and sealed bearings which do not exceed an operating temperature of 160° F, have a stationary outer ring, and do not exceed 50% of the limiting RPM do not usually require relubrication during their lifetime. Sealed bearings have designated holes in the exterior raceway in the event the bearing does need additional lubricant, and these can also be used to flush the bearing free of contaminants. Sealed bearings do not possess the speed or temperature capabilities of open bearings.
Vibration and Shock
Spherical roller bearings, which are valued for their self-aligning properties while under heavy load, have a hardened guide ring centered in the outer raceway to contain the reinforced bearing cage. It is common for the rollers to be reinforced to withstand the dynamic accelerations, eccentric and linear, to which they are often subjected. Window-type cages are used for this type of spherical roller bearing.
Barrel Roller Bearing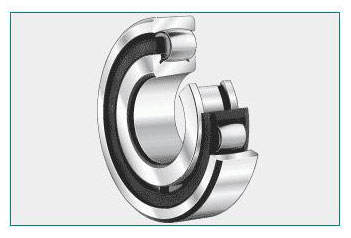 This type of self-aligning bearing utilizes only one row of rolling elements, though it retains the concave profile of the outer raceway and a robust cage. The rollers themselves are more bulbous than the cylindrical rollers used in spherical designs, hence the name barrel rollers. The inner raceway is machined to accommodate this unique roller profile and also contains flanges to contain the internal bearing components. Barrel roller bearings can endure very high radial loads, but almost no axial load.
Components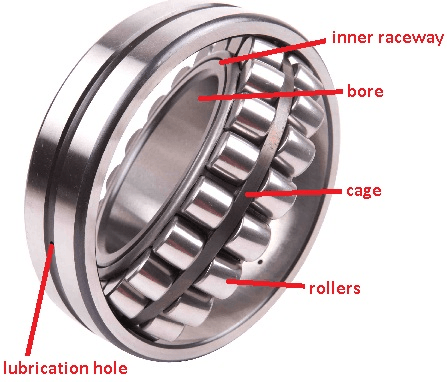 The rollers of the bearing are the load bearing components of the device and allow the inner and outer raceways to rotate with minimal friction. With the exception of barrel roller bearings, all spherical roller bearings contain two rows of rollers.
The cage of a spherical roller bearing experiences significant inertial forces, friction, and load, and the effectiveness of a cage is strongly related to the bearing's overall competence. The cage is meant to space rollers evenly to ensure uniform load distribution; guide rollers through the unloaded zones of the raceway; and reduce friction at high speed from the self-lubricating properties of the bearing design and material. Common materials for cage construction include brass, steel, polyamide, and sheet steel. Cages can be of single-piece construction, opposite conjoined pairs, or opposite abutted pairs. There are three types of cage design for spherical roller bearings:
Window-type cages offer high bearing speed with precision, low friction, and high load capacity; symmetrical load distribution in all conditions; smaller overall bearing diameters; improved roller control and temperature.
Rib-type cages do not offer the precision or load capacity of window-type cages, but are less likely to be congested by debris intrusions and have comparatively-low inertia.
Pin-type cages require pierced rollers and are most common in large-sized roller bearings which require low cage inertia but a large number of rolling elements.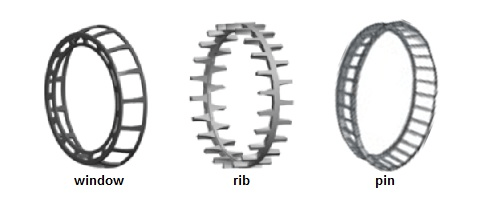 The distinct geometry of the inner and outer raceways facilitate the bearing's self-aligning properties. It is common for the inner ring to be manufactured with a flange to contain the ring and bearing complement within a single assembly, which assists during applications that experience high acceleration and deceleration. It is also common for the center of the outer ring to have a guide channel or groove to guide the rollers and cage in their rotation against the outer raceway.
Lubrication holes located in the outer raceway allow the bearing to be periodically relubricated, if necessary. These holes also provide the bearing with a flushing action, where it is inherently able to flush small contaminants from the raceways. An annular groove also assists the lubricant with an even distribution around the circumference of the bearing.
The bore of a spherical roller bearing can be either straight or tapered. Tapered bores are helpful in difficult installations since spherical roller bearings cannot be taken apart like many other bearing styles.
Seals (not pictured) are an optional component for any bearing, and can be implemented in a variety of ways for spherical roller bearings. They are used to prevent contaminants and moisture from entered the bearing raceway. Spherical roller bearings which utilize seals are typically somewhat wider than their unsealed counterparts. Seals can accommodate 0.5° of misalignment before the seal's exclusionary function is compromised, but often limit the operating temperature and limiting speed of the bearing.
Standards
In addition to the generalized standards which cover all radial roller bearings, such as ISO 15 and 492, the American Bearing Manufacturers Association has formulated standards which specifically apply to spherical roller bearings.
ABMA 12240 Dimensions, tolerances, clearances for radial spherical roller bearings
ABMA 20 Metric design of spherical roller bearings
Resources
Timken — Spherical roller bearing catalog (.pdf)
FAG — Special Spherical Roller Bearings for Vibratory Machinery (.pdf)
Images Credits
Ashoka | Bulgarian Industry | SKF | Central Bearing | Timken | Cylindrical Roller Bearings