Needle Roller Bearings Information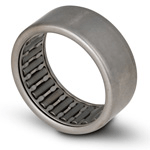 Needle roller bearings utilize small, cylindrical rollers, referred to as needle rollers, to reduce friction between moving components. The needle rollers are the load-carrying components of the needle roller bearing. They are located between two races, between a single race and a shaft, or between a shaft and a housing, depending on the design of the bearing.
The rolling elements of a needle roller bearing have a large load-bearing surface, but a small diameter. Specifically, Mark's Standard Handbook for Mechanical Engineers defines needle roller bearings as, "a roller bearing with rollers whose length[s] are at least four times their diameter." The surface area of the rollers and the high number of rolling, load-bearing elements provide needle roller bearings with exceptional load capacity and stiffness.
Most radial needle roller bearings are designed to accommodate axial-oriented forces more than 5% of the radial load. Those which are used in radial applications have rollers that are parallel to the shaft. Thrust bearings, those meant for axial loads, contain rollers with axes that are perpendicular to the shaft and from which they extend radially.
All needle roller bearings require some type of lubricant to help dissipate heat and reduce friction. The amount of friction is resultant from the load carried, the type and size of the needle roller bearing, the speed at which the bearing rotates, and the characteristics of the lubricant used. Needle roller bearings, especially those with outer rings made of high-strength steels, can also suppress shock and vibration.
The following video shows the construction of drawn cup and stampled cage needle roller bearings.
Video credit: std contact via YouTube
Optimal needle roller bearing implementation depends on several factors.

Needle roller bearings are designed to operate under a minimum load. Not meeting this quota may damage raceways from low roller inertia. Furthermore, needle roller bearings are typically not suitable for static loads. Such loads can damage roller elements. This includes applications in which the bearing rotates at less than 10 rpm, has slow oscillations, or may experience points of rest.

Operating temperature is the temperature range in which the bearing may be used. In low-temperature environments, the lubricant viscosity will increase, necessitating a higher minimum load.

Reference speed is the rotational speed at which the heat dissipated and created is at equilibrium.

Limiting speed is the highest RPM at which the bearing is designed to operate. This is determined by: the strength of the bearing cage, quality of lubrication, the centrifugal and gyratory forces, the precision with which the bearing was manufactured, and the characteristics of the lubricant.


Bearing Lifespan
Needle roller bearings are under constant compressive forces which eventually cause flaking, no matter how well the bearing is maintained. Bearing life is typically estimated as the number of rotations experienced before operation is compromised. Before determining a needle roller bearing's expected useful duration, it's basic load rating must first be calculated.
Basic dynamic load rating
| | |
| --- | --- |
| Radial needle roller bearings | Thrust needle roller bearings |
| | |
where,
Cr, Ca: basic dynamic load rating
i: number of roller rows
α: nominal contact angle
Z: number of rolling elements per row
Dw: roller diameter
Lwe: effective roller length
bm: rating factor depending on normal material and manufacture quality
fc, fca: coefficients determined by contact surface shape between roller and bearing ring,
processing accuracy, and bearing material
Lifespan
| | |
| --- | --- |
| Radial needle roller bearings | Thrust needle roller bearings |
| | |
where,
L: rating fatigue life (106-revolution unit)
P: bearing load
Cr, Ca: basic dynamic load rating
Types of Needle Roller Bearings
There are several types of bearings with needle-shaped rolling elements.
| | |
| --- | --- |
| Drawn cup needle roller bearings are the most common type of needle roller bearing. These have a deep but thin-walled outer ring which is drawn from sheet metal. The bore is commonly left open, but can also be capped on one side. They are intended to fit over a shaft. Smoother operation is experienced without an inner ring. There are three main types of drawn cup needle bearings, drawn cup with a cage and open ends, drawn cup with a cage and one closed end, and full complement bearings with open ends. | |
| Roller and cage assemblies consist of needle rollers contained by a cage or retainer. They do not have any bearing rings and are assembled between a shaft and housing. They have high load-carrying capacity in a small work envelope. | |
| Needle roller bearings with machined rings are used for higher load-carrying applications. There are two main types of needle roller bearings with machined rings - needle roller bearings without inner rings, and needle roller bearing with inner rings. Needle roller bearings without an inner ring are used with hardened and ground shafts, which allows for use of a larger shaft, offering increased stiffness. Needle roller bearings with inner rings are used in applications where a hardened, ground shaft is not possible or feasible. | |
| Most types of needle roller bearings include and single set of rollers within a cage. However, by placing two sets of rollers adjacently within the bearing, the radial load capacity increases significantly. In this configuration, the ability of the needle roller bearing to sustain even minimal axial loads is compromised, as the bearing cages will generate excessive friction. Roller gauges and cage tolerances for double row bearings must be equivalent. | |
| Drawn cup roller clutches have a thin-walled, drawn outer ring and are designed to transmit torque in one direction, and be free-running in the opposite direction. | |
| Alignment needle roller bearings have an outside raceway that is separated from the outer ring, which acts as a sleeve. This raceway features a concave external profile which fits into the sleeve with plastic rings. The result is a roller bearing which can compensate for minimal, static misalignment of the shaft. | |
| Thrust needle roller bearings are used in applications where the load is sustain axially, not radially. The rollers have axes which are perpendicular to the shaft of the bearing's bore. These types of bearings are acceptable for heavy axial and shock loads. If the associated machine components can be utilized as raceways, this type of bearing will take up no more space than a thrust washer. If not, then a thrust washer must be installed on the machinery. | |
Components of Needle Roller Bearings
As noted above, there are many different design types of needle roller bearings. Some may just contain a series of rollers in a cage.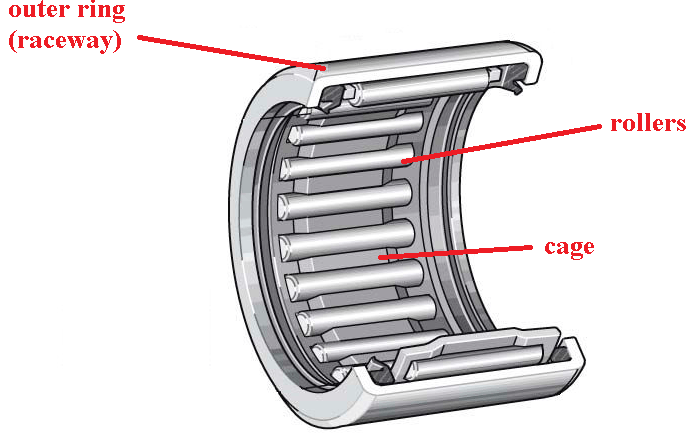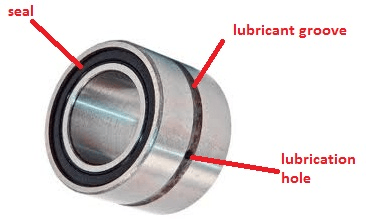 Needle rollers are the load-carrying component of the bearing, and are the one common component of all needle roller bearing types. These allow the outer and inner rings to rotate almost friction-free. They are most frequently manufactured from a steel alloy.

Raceways (if present) serve to guide the rollers within the bearing. While the inner and outer rings are designed to fit closely, a necessary minimal amount of clearance is required to account for thermal expansion and other variances. These items are commonly manufactured from carbon chromium steel or other alloys to improve hardness, fatigue resistance, and dimensional stability.

Bearing cages separate rollers to keep the load evenly distributed around the bearing. They also reduce bearing noise, improve rolling conditions, and prevent sliding. Additionally, they contain rollers within a single assembly. Steel is the most commonly used cage material in needle roller bearings. Plastic cages can be used where operating conditions permit. Lubrication and surface treatments can reduce the amount of heat generated from friction. Some drawn cup needle roller bearings are designed without a cage, and contain a full complement of needle rollers. Full complement bearings combine maximum load carrying capacity with the low cost of a drawn cup bearing. An inward turned lip is used to retain the rollers in the bearing ring in this design. Testing has established the following coefficient of friction values for caged and full complement bearing designs:


caged needle roller bearing: 15 • 10-4
full complement needle roller bearings: 25 • 10-4
Where the coefficient of friction is defined by:
coefficient of friction = (torque to turn bearing)/(load on bearing • bearing pitch radius)


Seals (if present) isolate the rollers, cage, and lubricant from contaminants and moisture in harsh environments. Seals must be able to withstand the oxidation, heat, and chemicals to which the bearing may be exposed. Sealed bearings will often supply an inner ring access hole in the outer ring, so the bearing can be relubricated. Seals are highly reliable when friction between the seal and bearing or shaft is kept to a minimum. Additional surface treatments or lubrication can be used to reduce this friction. Bearings with integral seals are limited to relatively low rotational speeds compared to open bearings. Seals are commonly made of acrylonitrile-butadiene rubber, polyurethane, or fluororubber.
Lubrication (not pictured above) is required for all needle roller bearings. Annular grooves and a lubrication hole are may be incorporated into the outer ring of most heavy-duty, machined needle roller bearings raceways to help the lubricant proliferate the circumference of the bearing.

Synthetic oils are most common for quality bearings. Mineral oils are appropriate for high-speed use. Synthetic oils are good for moderate to high speeds. Petroleum exhibits good lubrication under heavy-load/high-speed conditions. Silicone oils offer good heat resistance and do not corrode rubber, but are more appropriate for low speeds. Oils can be dripped, centrifuged, or impregnated into bearings.

Greases are best for moderate to high rotation speeds. Typically, the high-speed torque of a greased bearing is lower than an oiled bearing, but the opposite is true at lower speeds. These are usually applied via grease pack, but grease plating is also available. Silicone greases offer good heat resistance and do not corrode rubber, but are best for low to moderate speed applications.

Dry films should only be used where 'wet' lubricants will prove unsuitable or will accumulate large amounts of dirt. Dry films are difficult to apply and produce wear flakes as the bearing rotates, possibly obstructing bearing operation. Non-contact seals rely on the gap control between rotating and non-rotating components. The gap can be positioned radially, axially, or a combination of the two. Greases may be placed within this gap to reduce contaminant permeability. Since there is no contact between components, there is no friction which must be accounted for in the seal's implementation. Non-contact seals are preferred for high RPMs. The most common type of non-contact seal is a labyrinth seal, and many on these seals are constructed of steel or another rigid metal.
Needle Roller Bearing Standards
The accompanying standards may be helpful when considering needle roller bearings. An extensive variety of needle roller bearing standards are available from the IHS Global Standards Store.
Needle Roller Bearings Applications
Needle roller bearings are used in a variety of applications, such as radial piston pumps, autmotive steering and braking systems, power tools, transmissions, engines, valve trains, copiers, fax machines, outboard engines, and lawn trimmers.
Resources
Koyo Torrington - Needle Roller Bearings - Product/Application Handbook (.pdf)
Engineer Live - Needle roller bearings: 60 years and still evolving
NTN - New Technology Network - Needle Roller Bearings Handbook (.pdf)
Wikipedia- Needle roller bearing


Image credits:
Quality Bearings & Components | SKF | Grainger | Schaeffler Technologies AG & Co. KG