Switch Sealing Boots Information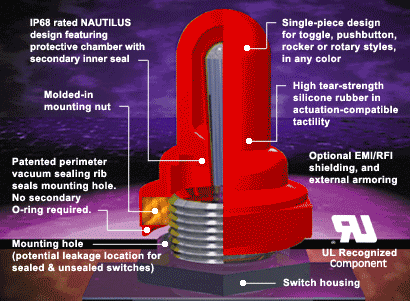 Accordion bellows and protective boots guard switches from contaminants such as dirt, dust, gas, and liquids. They are generally tough, pliable silicone rubber devices for toggle, pushbutton, rocker and rotary switches. Protective boots prevent the ingress of washdown, salt water, lubricants, cleaning solvents, dust, dirt, grease, and other environmental elements. Protective boots are designed for a variety of commercial, industrial, and military applications. They are available in two configurations: half boot and full boot. Half boots are designed to allow the switch actuator to protrude from the seal. Full boots completely protect and cover the switch actuator.
In addition to protecting toggle, pushbutton, rocker, and rotary switches, some types of boots are especially designed to protect circuit breakers. Other types of protective boots can protect handset switches and or telecommunications devices. Circuit breaker boots can be used for lever, rocker or pushbutton switches. These types of boots are designed to seal out dust, dirt, and moisture without compromising breaker tripping, manual operation, or position-status viewing. Handset boots are specially-designed products that are used for handset switches in telecommunication applications.
Accordian bellows protect a cylinder and its shaft from common contaminants without interfering with the cylinder cycle.
Standards and Specifications
Some switch-protecting boots adhere to specific standards or ratings specifications, especially if they are designed for specialized applications. Some boots are manufactured to military specifications (MIL-SPEC). Others are shielded, armored, or contain a secondary inner seal. Shielded boots provide protection against electromagnetic interference (EMI), radio frequency interference (RFI), and spurious electronic signals that enter or leave electronic equipment through the switch mounting hole. Armored boots are designed for demanding applications where mechanical abuse is expected. These boots are also suitable for medical and food processing applications. Secondary inner seal devices protect against the ingress of contaminants if the upper portion of the switch boot is cut, torn or punctured.
Protective boots can include environmental seals for switches, keypads, and circuit breakers. Many boot distributors offer custom configurations, colors and sizes. Suppliers may also provide design consultations to ensure that the right sealing boots are chosen for the desired application. They can also help with material selection.
Image credit: