Duct Heaters Information
Duct heaters are used to heat moving gas streams. They are installed in the middle of a moving air / gas stream in order to provide forced flow heat convection. A duct heater can also be used to radiantly heat an object as the thermal energy of the air is transferred to an object at the end of the flow stream. This method of indirect heat transfer is useful for drying, baking or preheating solid objects in an enclosed space.
Selection Criteria
Important parameters to consider when specifying duct heaters are maximum operating temperature, heating capacity and maximum air flow. Other considerations include type of heating element, dimensions and various features.
Formulas used to calculate wattage requirements, expected temperature rise and required air flow:

Image Credit: BTU Electric Heaters
Maximum Operating or Sheath Temperature
Maximum operating temperature is the maximum temperature that the sheath covering the heater may reach.
Heating Capacity
Heating capacity is a measure of how much thermal energy the device delivers over a period of time, usually measured in kilowatts.

Calculating Wattage Requirements
Image Credit: ASB Heating Elements Ltd.
Maximum Air Flow
The heater's air flow will define the volume of space that the heater is capable of heating. Airflow will also dictate the heating capacity required to maintain a specific temperature.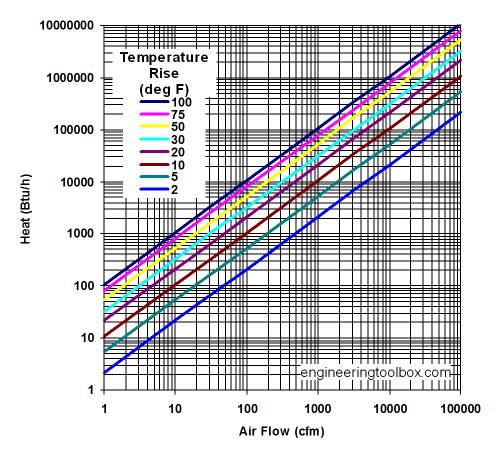 Image Credit: The Engineering ToolBox
Heating Element
Duct heaters are available with open coil, tubular or finned heating elements.
Open Coil
Open coil heater elements are supported by a ceramic insulators, used to isolate the resistive heating elements. They provide an economical means of heating inert or non-corrosive gases when a protective sheath is not required.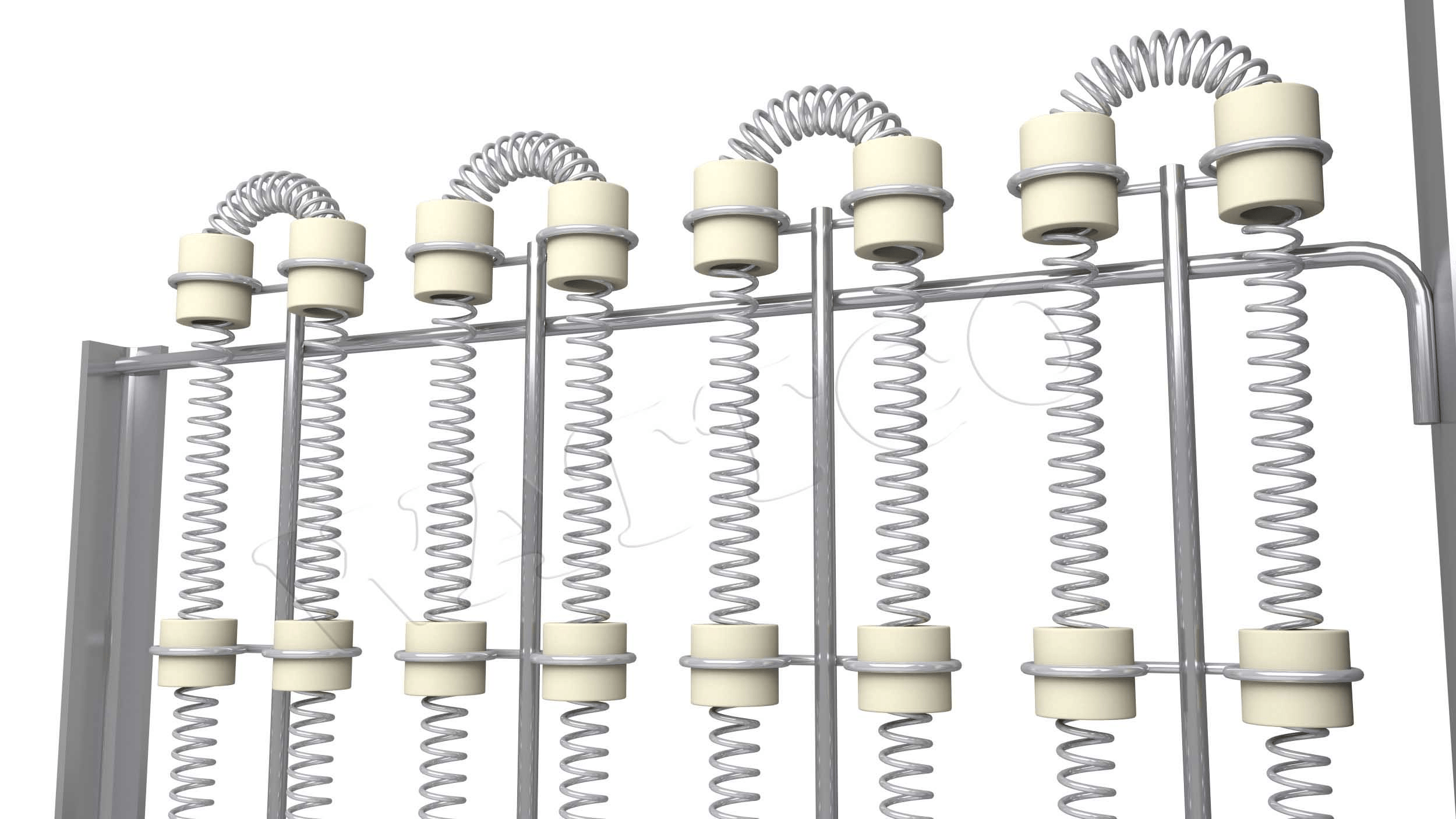 Image Credit: Wattco
Tubular
Tubular elements have a protective sheath that provides electrical insulation as well as a protective barrier. Duct heaters with tubular elements are capable of achieving higher temperatures and can accommodate higher airflow rates.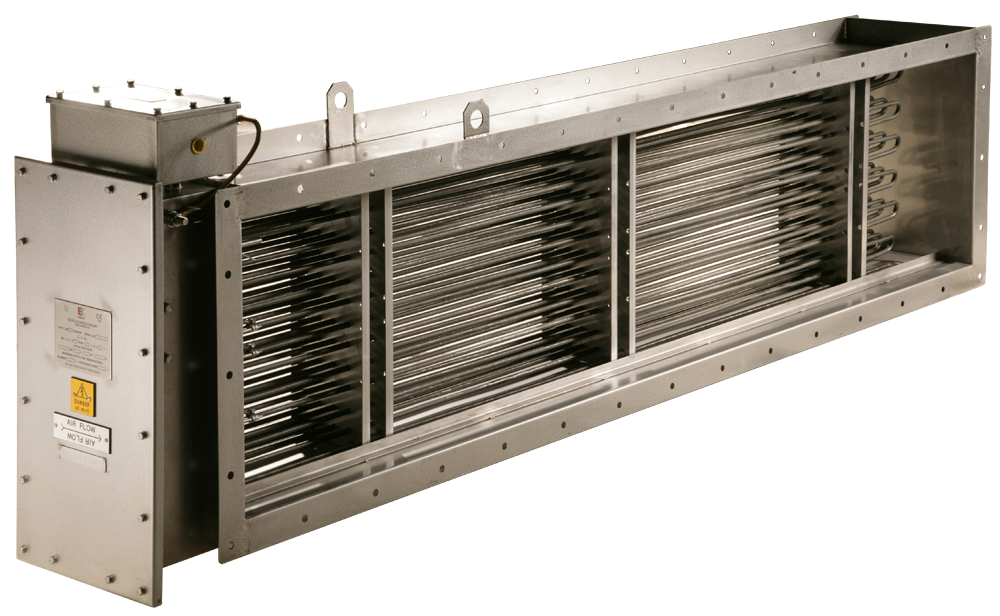 Image Credit: EXHEAT
Finned
Finned heating elements have a protective sheath with flat elongated fins to increase heat capacity when used in confined spaces.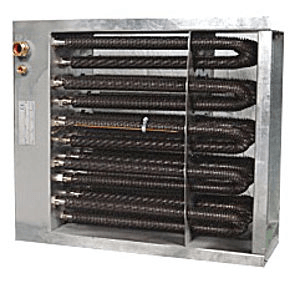 Image Credit: DirectIndustry
Dimensions
Dimensional requirements for proper duct heater installation include opening height, width and depth.
Height
The height of the heater as measured from the face of the installation flange.
Width
The width of the heater as measured from the face of the installation flange.
Depth
The depth of the duct required for heater installation.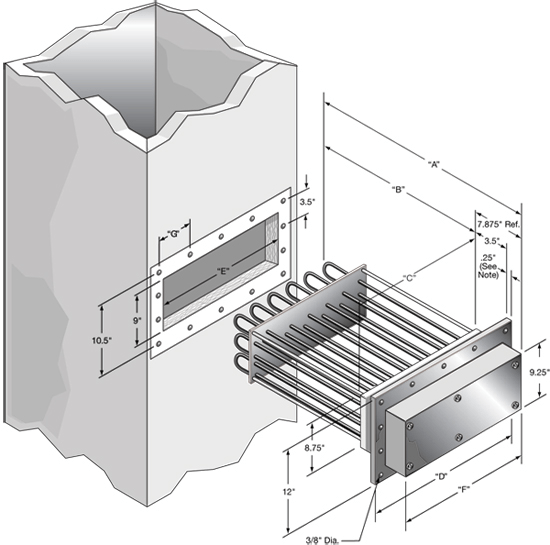 Image Credit: Tempco
Features
Features common to duct heaters include explosion proof, hazardous location and UL approved.
Explosion-proof heaters are designed to withstand explosions and protect the materials within. Some suppliers include heaters with housings that can withstand sparking and flames.•
Hazardous location heaters are designed for use in places where there is a risk of fire or explosion. Underwriters Laboratories (UL) and other organizations rate these devices.
Heaters approved by Underwriters Laboratories (UL) have been tested and meet the requirements set by their published standards for safety. Products that receive UL approval bear a UL Mark. Typically, documentation of UL certification is available from the manufacturer.
Resources
BTU Electric Heaters - Heaters Selection & Sizing
Dela T - Duct and Pipe Heaters
Image credit:
WATTCO