Cartridge Heaters Information
Cartridge heaters are cylindrical shaped heaters with resistive heating elements. The heating element is insulated to prevent the sheath from contacting the heating element and ultimately causing a short circuit or heater failure. The sheath, also known as a sleeve, or jacket, encapsulates the heater and provides a protective barrier. They are generally inserted into a heated substrate or used in immersion applications; however, due to their compact cylindrical shape, they can also be used in a variety of other applications.
Selection Criteria
Important parameters to consider when specifying cartridge heaters are maximum operating or sheath temperature, AC voltage required and watt density. Other considerations include dimensions, materials of construction, RoHS / WEE compliance, and various features.
Maximum operating or sheath temperature
Maximum operating temperature is the maximum temperature that the sheath covering the cartridge heater may reach. The materials of construction, voltage requirements and watt density are design factors affecting the operating temperature of the cartridge heater. In some applications, such as molding, casting and other metal working processes, temperatures can exceed 1500°F.
Note, this is not the hottest temperature that a heated substance may reach.

Image Credit: Tutco Heating Solutions Group
AC voltage
AC voltage is the minimum alternating current (AC) volts required to operate the cartridge heater.
Watt density
Watt density is the amount of wattage per square inch that a cartridge heater can deliver. High watt density heaters should not be used with extremely viscous materials, poorly-circulated materials, or explosive/volatile materials due to risk of fire. High watt density heaters are required for higher operating temperatures.
Dimensions
Important dimensions for cartridge heaters are the nominal diameter and cartridge length or heated length.
Nominal diameter - The nominal diameter of the heater is actually a few thousands of an inch larger than the measured dimension. The nominal diameter is the size of the hole that the heater is designed to be inserted to. High watt density and operating temperatures require a close fit to improve heat transfer and heater life expectancy.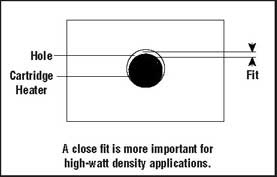 Image Credit: Chromalox
Heated length - The measured length is for the heated section of the cartridge only.
The following graph illustrates the required hole fit tolerance between the cartridge heater and the heated substrate for various temperatures and watt densities.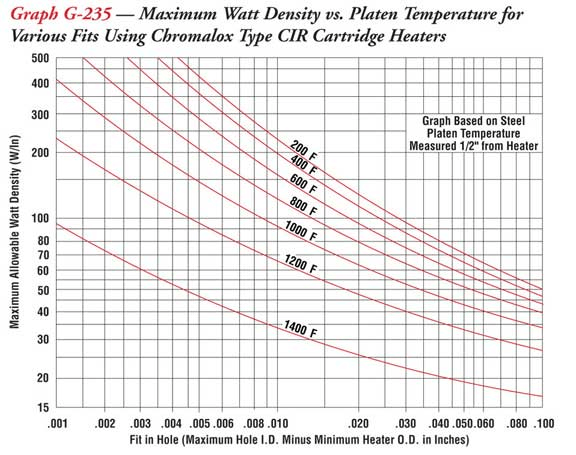 Image Credit: Chromalox
Materials
Sleeve (sheath) material
Sleeves, jackets or sheaths are used as a protective outer covering for heating elements. Typically, cartridge heaters use sleeve materials made of aluminum, brass, copper, iron, nickel alloy, stainless steel, or steel.
Options include:
| | | | |
| --- | --- | --- | --- |
| | None | | The heater has a bare, exposed heating element without a sleeve or sheath. |
| | Aluminum | | The sleeve or sheath is made of aluminum, a bluish, silver-white, malleable, ductile, light, trivalent, metallic element that provides good electrical and thermal conductivity, high reflectivity, and resistance to oxidation. |
| | Brass | | The sleeve or sheath is made of brass, an alloy that provides good strength, excellent high temperature ductility, reasonable cold ductility, good electrical conductivity, excellent corrosion resistance, and low magnetic permeability. |
| | Copper | | The sleeve or sheath is made of copper, a common, reddish, metallic element that is ductile and malleable. Copper is one of the best conductors of heat and electricity. |
| | Fluoropolymer (Teflon®) | | The sleeve or sheath is made of a fluropolymer such as Teflon® (DuPont Dow Elastomers). Teflon refers to a class of fluoropolymer resins used for a wide variety of commercial applications. They are highly-resistant to temperature, chemical reaction, corrosion, and stress-cracking. |
| | HT Foil (Ceramic Foil) | | The sleeve or sheath is made of high temperature (HT) foil. HT foil is sometimes called ceramic foil. |
| | Iron | | The sleeve or sheath is made of iron. |
| | Nickel Alloy (Inconel®, Incoloy®, Monel®) | | The sleeve or sheath is made of nickel alloy. The amount of nickel varies by alloy type. Proprietary alloys include Inconel®, Monel® (Special Metals Corporation) and Incoloy®(Inco Alloys International). |
| | Polyimide (Kapton®) | | The sleeve or sheath is made of a polyimide such as Kapton® (DuPont). |
| | Rubber | | The sleeve or sheath is made of natural or synthetic rubber, silicone, or styrene butadiene (SBR). |
| | Stainless Steel | | The sleeve or sheath is made of stainless steel, a chemical and corrosion resistant alloy that can have relatively high-pressure ratings. |
| | Steel | | The sleeve or sheath is made of steel, a commercial iron that contains carbon in any amount up to about 1.7% as an essential alloying constituent. Steel is malleable under suitable conditions and distinguished from cast iron by its malleability and lower carbon content. |
| | Synthetic Rubber (Neoprene) | | The sleeve or sheath is made of a synthetic rubber such as neoprene. |
Insulation options
Heater insulation isolates the heating element. Typically, suppliers carry cartridge heaters with ceramic, fiberglass, magnesium oxide, mica or mineral insulation, or a fluoropolymer. Each type of insulation offers different features. Some heaters may be available with multiple insulation options.
Ceramic insulation consists of nonmetallic minerals, such as clay, that are permanently hardened by high-temperature firing. Most ceramics resist heat and chemicals.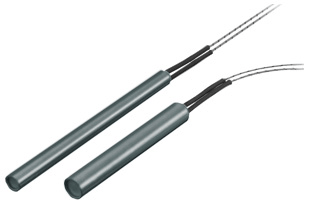 Mica insulation consists of colored or transparent mineral silicates that are crystallized in monoclinic forms and readily separated into very thin leaves. Mica is valued for its electrical insulating properties and resistance to heat and acids.
Fluoropolymer insulation is used in applications requiring superior chemical resistance. Fluoropolymers have several unique chemical systems including polytetrafluoroethylene (PTFE) and polyvinylidene fluoride (PVDF).
Fiberglass insulation is strong, durable, and impervious to many caustics and extreme temperatures. Fiberglass fabrics are used widely in industry.
Magnesium oxide insulation has a high melting point (2800°C) and heat resistance (1700°C in the reducing and 2300 °C in oxidizing atmospheres.)
Electrical Connection / Termination
Most devices can be configured with many different termination options. Choices for termination type include: bare leads, insulated leads, armor cable leads, metal braided leads, flexible conduit leads, screw terminals terminal boxes, quick disconnects and plugs.
Mounting / Installation
Cartridge heaters may be mounted or installed using different methods. Some products have multiple mounting options, such as threaded pipe fittings, mounting flanges and locating rings.
RoHS / WEEE Compliance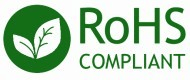 Image Credit: Industrial Safety Solutions
Restriction of Hazardous Substances (RoHS) is a European Union (EU) directive that requires all manufacturers of electronic and electrical equipment sold in Europe to demonstrate that their products contain only minimal levels of the following hazardous substances: lead, mercury, cadmium, hexavalent chromium, polybrominated biphenyl and polybrominated diphenyl ether. RoHS became effective on July 1, 2006.

Image Credit: EPM Global Services
Waste Electrical and Electronics Equipment (WEEE) is a European Union (EU) directive designed to encourage the reuse, recycling and recovery of electrical and electronic equipment. WEEE is also designed to improve the environmental impact and performance of this equipment. The WEEE directive establishes requirements and criteria for the collection, treatment, recycling and recovery of electrical and electronic equipment. It also makes producers responsible for financing these activities. Retailers and distributors must provide a way for consumers to return used or obsolete equipment without charge.
Features
Features common to cartridge heaters include corrosion resistance, explosion proof, UL approved, internal temperature detectors and grounding wires.
Corrosion resistant heaters are made of corrosion-resistant materials and suitable for use in a corrosive or chemical environment.
Explosion-proof heaters are designed to withstand explosions and protect the materials within. Some suppliers include heaters with housings that can withstand sparking and flames.
The heater is equipped with a grounding wire that allows you to connect the electrical wiring to a common ground in order to dissipate the load in the event of a short circuit.
The heater contains an integral temperature detector that is used to sense the temperature of the heater while it is in use.
UL approved trace line heaters are approved by Underwriters Laboratories (UL). Typically, documentation of UL certification is available from the manufacturer.
Resources
Heating Elements Learning Center - Cartridge Heater Knowledge Base
Process Heating - Cartridge Heater Considerations
Chromalox - Cartridge Heaters Design Guide