Immersion Heaters Information
Immersion heaters are used in applications that require the heater to be immersed in the substance to be heated. They are equipped with pipe threads, flanges or other mounting hardware.
Important parameters to consider when specifying immersion heaters are performance specifications, applications and mechanical specifications. Other considerations include sleeve or sheath material and various features.
Performance Specifications
Performance specifications for immersion heaters include maximum operating temperature, AC voltage, heating capacity and watt density.
Maximum operating (sheath) temperature is the highest temperature that the heater's sheath (or protective cover) may reach. This is not the maximum temperature a heated substance may reach.
AC voltage required is the minimum alternating current (AC) volts required to operate the cartridge heater.
Heating Capacity
Measured in kilowatts (kW), heating capacity is the wattage that a flange immersion heater or screw plug immersion heater can deliver.

Image Credit: Spirax Sarco

= Mean heat transfer rate (kW (kJ/s)
m = Mass of the fluid (kg)
cp = Specific heat capacity of the fluid (kJ/kg °C)
ΔT = Increase in fluid temperature (°C)
t = Time for the heating process (seconds)
Watt Density
Watt density is a good measure of how quickly flange and screw plug immersion heaters can transfer heat to a heated surface.
High-watt density immersion heaters should not be used with extremely viscous materials, explosives, or substances that are not well circulated because the risk of fire or scorching increases as fluid viscosity and heater-watt density increase.
Applications
It is important to select a heater that is designed for its intended application. The viscosity, specific heat, flash temperature and corrosive properties of the fluids that the heater will be immersed in may limit the watt density, recommended maximum temperature or require specific materials of construction. Common applications for flange and screw plug immersion heaters include the heating of gases or vapors, clean water, process waters, high-purity waters, lightweight oils and degreasing solutions, heavy weight oils, medium weight oils, mild corrosive solutions, severe corrosive solutions, caustic solutions, and liquid paraffin.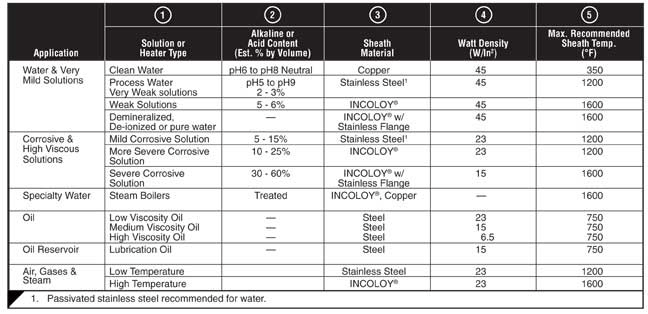 Application Selection Guidelines
Image Credit: Chromalox
Mechanical Specifications
When selecting immersion heaters it important to select a heater that meets the physical requirements for its intended application. Mechanical specifications for immersion heaters include mounting options, flange or thread diameter, immersion/heated length and the number of elements.
Mounting Options
Immersion Heaters are commonly configured with either threaded or flanged mounting hardware. The connection allows the heating element to be isolated in the heated fluid.
Flange Mount / (ANSI) Flanges - Flanged immersion heaters are typically equipped with ANSI flanges. They are installed by bolting the unit to a matching flange welded to a vessel wall. ANSI flanges are specified by a nominal pipe size and pressure class rating. Common pressure classes for ANSI flanges are: 150, 300, 400, 600, 900, 1500 and 2500 psi.
Screw Plug / NPT Threaded - Screw plug immersion heaters are equipped with a tapered pipe fitting that screw into a threaded well. Tapered threads have a concentric thread diameter and are used for sealing without gaskets. Tapered pipe fittings specified by ANSI/ASME adhere to national pipe thread (NPT) standards.
Flange or Thread Diameter
The diameter of the mounting flange or pipe thread is a nominal size describing the bore of the flange or diameter of a pipe thread.
Immersion (Heated) Length
Immersion length is the heat-delivering length that is actually submerged in the heated substance
Number of Elements
Immersion heaters may be available with one or several heating elements. Heaters with several elements typically allow for a higher heat capacity without the use of increased temperatures or watt densities.
Sleeve (Sheath) Material
Most flange and screw plug immersion heaters have a protective sheath or sleeve that covers the heating elements. There are usually many choices for sheath or sleeve material. Examples include aluminum, brass, copper, fluoropolymer, high temperature (HT) foil, iron, nickel alloy, polyimide, rubber, steel, stainless steel, and synthetic rubber.
MAXIMUM TEMPERATURE AND SHEATH MATERIAL SELECTION TABLE:
| | | |
| --- | --- | --- |
| Heater Sheath | Maximum Sheath Temp. | Used to heat |
| Steel | 750°F (400°C) | oil, hydraulic oil |
| Copper | 360°F (180°C) | water, tap/municipal only |
| Incoloy 800® | 1500°F (815°C) | water, alkaline solutions, air, gases, radiant |
| Incoloy 840® | 1400°F (760°C) | air, radiant |
| Inconel 600® | 1600°F (870°C) | strong alkaline solutions, high temperature gases |
| Stainless steel | 1200°F (650°C) | De-ionized, de-mineralized, process water, some mild acids |
Features
Explosion-Proof - The heater's housing is designed to withstand explosions and protect the materials within. Some suppliers include heaters with housings that can withstand sparking and flames.
Hazardous Location - Hazardous location heaters are designed for use in places where there is a risk of fire or explosion. Underwriters Laboratories (UL) and other organizations rate these devices.
UL Approved - Heaters approved by Underwriters Laboratories (UL) have been tested and meet the requirements set by their published standards for safety. Products that receive UL approval bear a UL Mark. Typically, documentation of UL certification is available from the manufacturer.
How to Change and Immersion Heater - Plumbing Tips
Video Credit: plumberparts / CC BY 3.0
Resources
Chromalox - Flanged Immersion Heaters Selection Guidelines
wiseGEEK - What Are the Different Types Of Immersion Heater?
BUCAN - Screw Plug Immersion Heater Selection Tips
Image credits: