Coil Heaters Information
Coil heaters and cable heaters are elongated heating elements. They include heating cables as well as coil heaters that are formed from straight, uncoiled segments of round or square tubular heating elements. They may be supplied as a straight cable or formed into a variety of shapes including star wound or spiral wound elements, and other specialty configurations. The configuration is formed into a pattern that either increases the surface area, heat transfer capability, or otherwise into a configuration that best suits a particular application.

Types
Cable heaters, also referred to as heating cables, have a flexible sleeve or jacket. The non-metallic sleeve protects the insulated heating element, while allowing it to form to the surface to be heated.
Coil heaters are straight or pre-formed electrical heating elements with a metallic sheath. Once they are formed, they have a defined shape. They have a round or square or rectangular cross section and are available in a variety of shapes and sizes. Coil heater configurations include straight, close coiled, spiral wound, and star wound cables.
Straight cables are used to snake through or around equipment. They may also be formed by the end user to suit OEM applications.
Close coiled cables offer optimal heat distribution and may contain distributed wattage to concentrate heat transfer at desired locations.
Spiral wound heaters are low-profile heaters used to generate high temperatures in restricted areas.
Star wound cables are offset coils inserted into pipes or ducts to create a turbulent flow in air or fluid that increases heat transfer.
Specifications
Most coil heaters and cable heaters operate on AC voltages. They may be operated by a single-phase or three-phase voltage.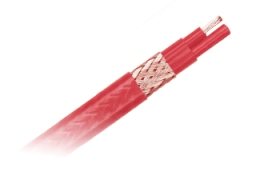 Output power
The thermal output power of the device is best described by the heating capacity and watt density.
Heating capacity is the measurement of the output of the heater. Described in wattage or kilowatts, the heating capacity is an expression of heat transfer with respect to time.
Watt density is a good measure of how quickly the heater can transfer heat to a heated surface. To calculate watt density, suppliers divide the available wattage by the heated surface area.
Termination
Coil heaters and cable heaters can be configured with different termination options. Electrical connections can be made via the following:
Connectorized or plug configuration
Terminal boxes
Armored

cables

Metal over-braids

Plain leads
Dimensions
Coil heaters and cable heaters are specified by the coil inner diameter, outer diameter, length, and width.
Materials
Coil heaters and cable heaters contain a layered heating element. Resistance wire elements, such as a nickel-chromium alloy, produce heat. The element is electrically insulated to prevent faulting. A sleeve, sheath, or jacket material then encases the insulated heating element in order to provide environmental protection.
Insulation materials include:
Ceramics consist of nonmetallic minerals, such as clay, that are permanently hardened by high-temperature firing. Most ceramics resist heat and chemicals.
Fiberglass is strong, durable, and impervious to many caustics and extreme temperatures.
Fluoropolymers, such as Teflon, are inert to most chemicals and extremely slippery.
Magnesium oxide is a high temperature electrical insulator that is often in the form of a compacted powder.
Mica is a colored or transparent mineral silicate that is crystallized in monoclinic forms and readily separated into very thin leaves. Mica is valued for its electrical insulating properties and resistance to heat and acids.
Sleeve, sheath, or jacket materials include:
aluminum
brass
copper
fluoropolymer
iron
nickel alloy
rubber
steel
Applications
There are many applications for coil heaters and cable heaters. Larger devices are used in plastic injection molding machines, holding tanks, metallurgical analyzers, and pulp and paper processing. Coil heaters and cable heaters are also used in blow molding machines, oil reclamation equipment, and food and candy extruders. Smaller, localized devices are used in labeling, bag sealing, hot stamping, heat trace, and packaging equipment.
Standards
UL 1030—Safety standards for metal-sheathed heating elements intended for use in appliances and equipment.
ASTM B603—Standard specifications for annealed, drawn, or rolled iron-chromium-aluminum alloys for electrical heating elements.
Related Information
Engineering360—Stove Handle Springs are Keeping You Safe from Burns
Resources
Image credits:
Acrolab Ltd. | Thermon Manufacturing Co.