From
Implementing 802.11 with Microcontrollers: Wireless Networking for Embedded Systems Designers
The AirDrop-A module is basic AVR ATmega128L microcontroller hardware combined with specialized EDTP Electronics 802.11b hardware and firmware. Logically, the AirDrop-A is a hardware/firmware clone of the AirDrop-P with only the microcontroller and its programming and debugging points differing.
The AirDrop-A Hardware
The AirDrop-P came to physical realization first and soon after, the AirDrop-A hardware was fashioned after that of the AirDrop-P. The original AirDrop-A prototype is shown in Photo 3.1.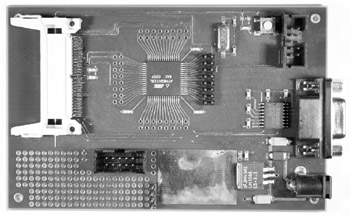 Photo 3.1:

A JTAG port was added to the AirDrop-A variant to support debugging with the JTAGICE mkII.
Like the AirDrop-P, the AirDrop-A is designed to allow the 802.11b designer to use his or her microcontroller of choice. This is done by not populating or depopulating the native ATmega128L and mounting the desired microcontroller using a daughterboard that pins to the AirDrop-A's microcontroller I/O header pads. Of course, the AirDrop-A is more suited for AVR microcontrollers because of the inclusion of the AVR JTAG interface. In this chapter we will focus on the production AirDrop-A hardware that you see in Photo 3.2.
Photo 3.2:

Those two-note chords are called "Power Chords." A Power Chord consists of the root note of the chord and the 5 th interval note. The 3 rd major or minor interval note is left out of the Power Chord structure. The octave of the root note is usually played as well. Hard rock and metal rock are Power Chord havens. As for the AirDrop-A, it is based on the most powerful 8-bit microcontroller currently...
Copyright Elsevier Inc. 2005 under license agreement with Books24x7
---
Products & Services
---
Topics of Interest