From
Fundamentals of Test Measurement Instrumentation
4.6

Acceleration Transducers

Acceleration transducers or accelerometers use piezoelectric, strain gauge, variable reluctance, or integrated circuit technology as basic principles of operation.
4.6.1

Acceleration and Acceleration Measurement

Acceleration is a measure of how the velocity is changing with respect to time. Acceleration is a vector quantity and thus has a magnitude and a direction. The units of acceleration include inches per second per second (inches per second squared) or feet per second per second (feet per second squared). Another unit of acceleration is the g, which is the acceleration of a body due to the force of the earth's gravity. One g is equal to 32.2 feet per second squared or 9.81 meters per second squared.

Transducers that are used to measure acceleration are normally called accelerometers. They are used most commonly to measure the vibration of an object.
4.6.2

Piezoelectric Acceleration Transducer

Piezoelectric accelerometers (see Figure 4-28) are constructed using a mass that is spring loaded against a crystal. Accelerating the transducer will increase or decrease the force on the crystal, depending on the direction of the acceleration. The magnitude of the force is equal to the mass times the acceleration (F = ma). The force acting on the crystal will produce an electrical charge across opposite faces of the crystal that is proportional to the applied force. We thus have a transducer that produces a charge output that is proportional to acceleration.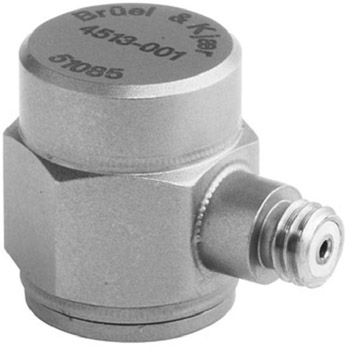 Figure 4-28:

Piezoelectric Accelerometer
As with the piezoelectric pressure transducer, the...
Copyright ISA—Instrumentation, Systems, and Automation Society 2006 under license agreement with Books24x7
---
Products & Services
---
Topics of Interest