Tablet Computers Information

Show all Tablet Computers Manufacturers
Description
Tablet computers, also known simply as tablets, are notebook-sized mobile computers - equipped with touchscreens - which are typically used wirelessly. Common models include Apple's iPad, Google's Nexus 7, Samsung's Galaxy Tab, Microsoft's Surface, and Amazon's Kindle Fire.
Features
A tablet computer falls somewhere between a smartphone and a laptop computer in size and functionality yet it incorporates some features of both of those types of devices.
Portability is one of the main reasons for selecting a tablet computer over another type of device. Tablet computers are smaller, thinner, and more lightweight than laptop computers. The screen size is larger than that of a smartphone, making it easier to read and navigate the touchscreen.
Connectivity is another key feature. Like a smartphone, a tablet computer is designed to operate wirelessly, either over a Wi-Fi network or via a 3G or 4G cell phone network.
Compatibility is another feature of a tablet computer. Many tablets share operating systems (OS) with smartphones or computers, making it relatively easy to sync data back and forth.
Applications
Many tablets are designed for consumer use. These and other specialized tablets can also be used for industrial and military applications. It is important to know the intended of application of the tablet before making a purchase because the use will dictate specification requirements.
Some applications of tablet computers include:
Personal use
Research
Construction
Manufacturing
Transportation and logistics
Forestry
Utilities
Emergency personnel
Healthcare and medical
Military
Types
Tablet computers are available in different configurations. One may be simply a tablet, while another has an attached keyboard or is designed to operate in extreme conditions.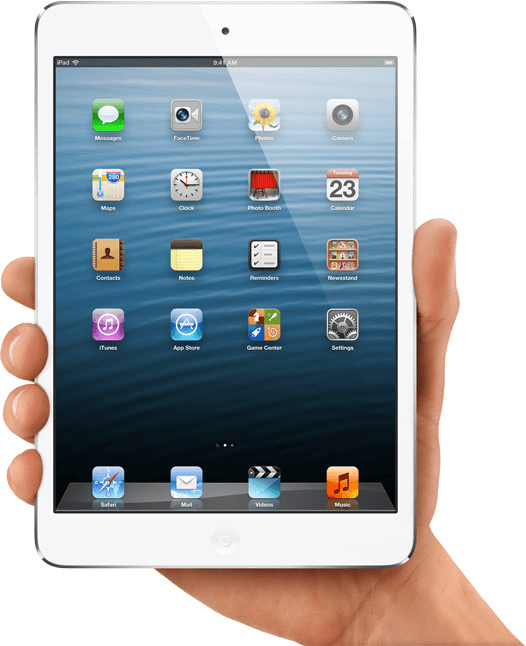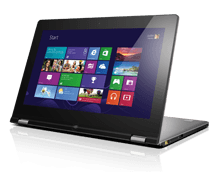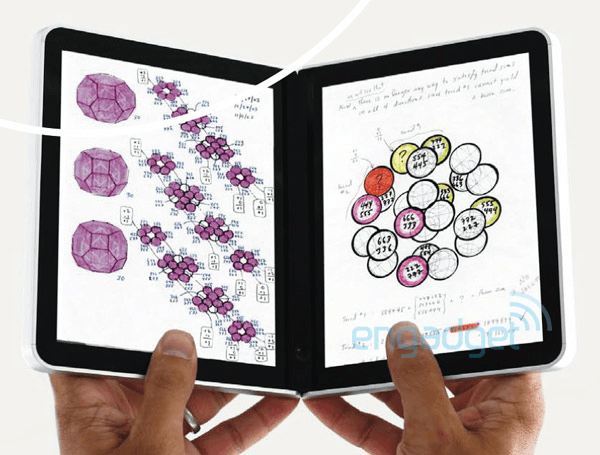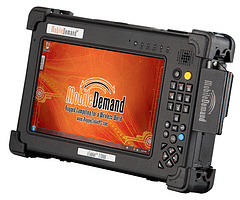 Tablet configurations: slate, convertible, booklet, and rugged.
Image Credits: Apple | Lenovo | blogcdn.com | Mobileworxs
Slate
A slate is a traditional standalone tablet, for example, an Apple iPad or Samsung Galaxy Tab. Depending on the tablet it may be possible to connect a keyboard via Bluetooth. Slates are used for consumer activity and occasionally in professional and industrial applications. Slates may come in regular or mini sizes.
Convertible
A convertible tablet has an attached full keyboard. The keyboard can be folded behind the screen so the device can be held as a tablet. It can also lie in front of the screen like a laptop computer.
Booklet
Booklet-style tablet computers have two screens. The device opens like a book with a screen on each side. They aid in multi-tasking and may accommodate handwriting recognition.
Rugged
Rugged tablets are designed for use in environments where less durable tablets would break or fail to operate. According to MobileDemand, a standard tablet that "spends more than 40% of its time outside of the office" has an annual failure rate of "more than 30% per device." Failure rates for rugged tablets in similar conditions are less than 4% per year.
They are durable and shockproof to withstand research, military, construction, or other outdoor work. Tablets specifically geared toward children offer rugged features. Some conditions that rugged tablets are built to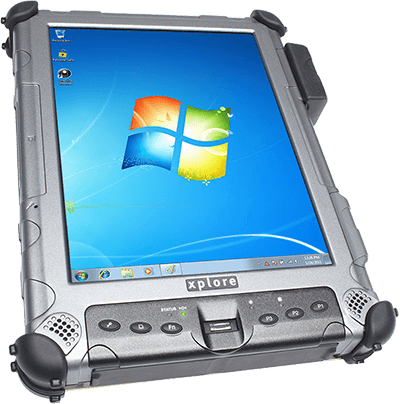 withstand include:
Extremely high or low temperatures
Vibration
Dusty conditions
Direct sunlight
Wet conditions
Drops onto hard surfaces
Specifications
Operating System
A number of operating systems (OS) are available for tablet computers and they can be specific to a device by a certain manufacturer. For example, iPads are manufactured by Apple and will carry that company's OS, called iOS. Google's Android platform is available on models by multiple manufacturers.
Software designed for use on personal computers, such as Microsoft Excel or Matlab, cannot be installed on most tablet computers. Apps, or applications, are small programs used on tablet computers and other devices. Each OS is compatible with certain apps. Examples of apps include calculators or versions of existing programs like Microsoft Excel. Some apps are free and others require a purchase to download.
Below is a comparison of some of the operating systems available for tablet computers. The market share percentages do not total 100% because of lesser-used systems that were not included.
| | | | |
| --- | --- | --- | --- |
| Operating System | Devices | App Availability | Market Share |
| iOS - Apple | iPads, iPhones, iPods | > 1 million | 55% |
| Android - Google | Many tablets and smartphones | > 1 million | 34% |
| Windows - Microsoft | Tablets, smartphones, and computers | > 100,000 | 1% |
| Blackberry - RIM | Blackberry tablets and cell phones | > 250,000 | 2% |
| Kindle - Amazon | Kindle tablets | > 100,000 | 1% |
Size
Sizing for tablet computers is typically broken down into two categories: 7-8 inch tablets and 9-11 inch tablets. Smaller models weigh less and may lack certain features such as cameras. Selecting a tablet computer size should be based on the desired application and whether compactness or a larger functional screen size is more important.
Processor
Processors vary by manufacturer. Apple, for instance, has its own processers; other manufacturers may use Intel or ARM processors. The table below describes some processors that are commonly used in tablet computers.
| | | | | |
| --- | --- | --- | --- | --- |
| Processor | Manufacturer | Devices | Max. CPU Rate | Cores |
| Apple A5, A6, A7 | Samsung Electronics | iPad 2-4, iPad mini, iPad Air | 1GHz - 1.4 GHz | 1 or 2 |
| Intel Atom | Intel | Asus Tab, Lenovo Tablet, Samsung Galaxy Tab | 0.6 GHz - 2.13 GHz | 2 or 4 |
| Intel Core i3, i5 | Intel | Panasonic Toughpad, Razer EDGE, Fujitsu STYLISTIC | 1.6 GHz - 2.4 GHz | 2 or 4 |
| ARM Cortex A9 | Samsung Electronics | BlackBerry PlayBook, AGPtek, | 0.8 GHz - 2 GHz | 1 to 4 |
Storage
Because tablet computers are meant to be used wirelessly, data to be accessed is stored on the device itself or possibly in cloud storage. While some devices have a slot for a micro SD card to expand memory, in most cases there is no connection to other storage devices such as USB drives or portable hard drives. The memory on the device will determine how much media like photos, music, video, or other large files can be stored.
Internal memory cannot be expanded at a later time and can range from 1GB to 500GB, although 8GB - 64GB are the most common sizes for consumer tablet computers.
Battery
The battery life of a tablet computer depends on a number of factors. Battery life can be influenced by:
Battery size
Screen backlight brightness
Operating system efficiency
Sleep mode vs. powering down the tablet
App usage
Browsing the web
Streaming video
Many tablets advertise six to 11 hours of battery life.
Screen Type
Tablet computers have touchscreens, eliminating the need for a keyboard or mouse, although those devices can be added. Actions such as tapping, swiping, and turning the device can produce different results. A stylus, or rubber-tipped pen, can be used instead of a finger to press a button or write on the screen.
Capacitive touchscreens are used on most tablets. These screens respond to skin touch rather than pressure and have less accuracy for handwriting unless used with specialized apps. The capacitive touchscreen allows additional actions such as swiping, pinching, and expanding items on the screen. The screen has a solid outer layer, such as glass, with electrostatic sensors beneath it.
Resistive touchscreens are used in point-of-sale (POS) electronic signature pads used in retail stores and by delivery services. They intended for use with a stylus but can also respond to finger or fingernail pressure. Precision is required for accurate sensing and action. These screens have multiple layers with the outer layer made of a slightly flexible material.
Active screens are used on devices with screens that do not respond to the touch of a finger. A special stylus must be used with these screens, which are the best type to translate handwriting or drawing to a screen.
A rugged tablet computer that will be used in extreme conditions may have other screen features. The screen may be scratch-resistant, reduce glare when viewed in direct sunlight, and be able to deal with extreme temperature ranges.
Screen Resolution
The display resolution of a screen is the number of pixels in each dimension that can be displayed. It is shown as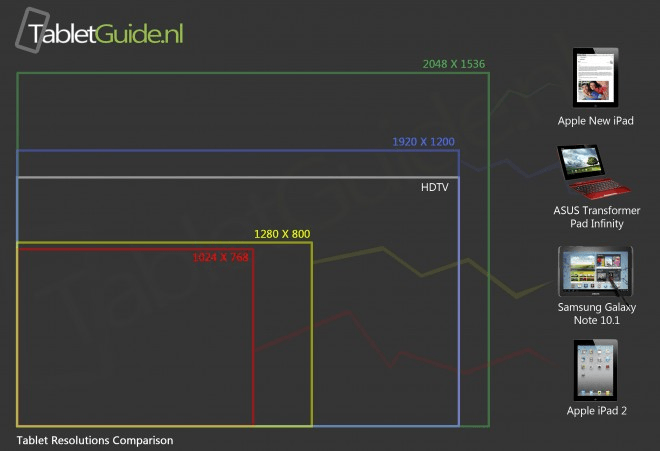 width by height, so an iPad with a resolution of 1024 x 768 is described as being held lengthwise.
Screen resolution for tablet computers ranges from 1024 x 600 to 2560 x 1600. While higher numbers generally indicate a clearer picture, at some point the numbers may exceed the resolution of the image file or the quality of a video.
Pixel Density
Pixel density, also known as pixels per inch (PPI) or dots per inch (DPI), is a measurement of the number of pixels horizontally and vertically in a square inch of space. PPI in tablet computers can range from about 130 PPI to more than 400 PPI.
Apple's Retina display, at 264 PPI (326 PPI on the iPhone 4 and later models), is available in the iPad 3, iPad 4, and iPad Air. Retina is an LCD (liquid crystal display) with a high enough pixel density that the human eye will not notice pixilation at a normal viewing distance. It is unlikely that the human eye can detect an improvement in quality at a higher PPI unless a microscope is used for viewing.
Accelerometer
An accelerometer may be used in a device that responds to being turned, tilted, or shaken. Turning a tablet computer to a vertical or horizontal orientation will change the corresponding screen orientation to portrait or landscape. Tilting or shaking a device may trigger a response from an app like a game.
Navigation is another application of an accelerometer and may be useful in apps related to mapping and changes in elevation or distance. The accelerometer may also provide image stabilization for a built-in camera.
Camera
Tablet computers may have cameras on the front or back of the device or in both locations. A rear- or back-facing camera is located on the opposite side from the screen and may be used for taking photos or videos, communication, and teleconferencing. A front-facing camera is located on the same side of the device as the screen (facing the user) and can be used for taking pictures or videos while observing a mirror image on the screen.
Cameras vary in terms of megapixels, autofocus, flash, and incorporated microphones.
Internet Connection
Tablet computers can connect to the Internet via a Wi-Fi network or cell phone network; some can connect both ways.
A tablet that can connect only via Wi-Fi is limited to areas with these networks. A tablet that connects via a 3G or 4G cell phone network may be subject to a contract or month-to-month billing with a cell phone carrier. The added cost may be worth it for those who work in the field or in areas that do not have reliable Wi-Fi networks.
Rugged tablet computers have better reliability when it comes to wireless connectivity. Multiple radios may be used in the product to reduce productivity loss in the event of disconnection.
Inputs, Outputs, and Accessories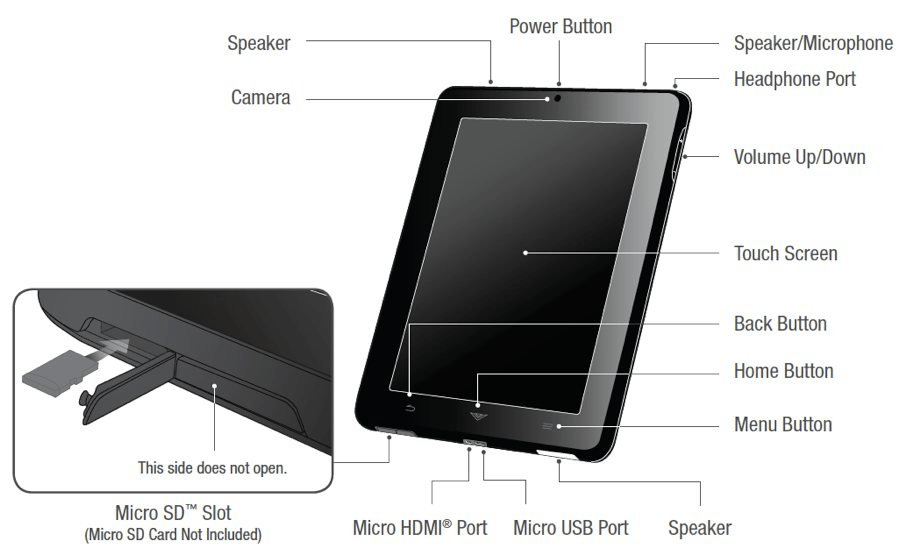 While connection ports and buttons vary between tablet manufacturers, most devices come with the following:
On/off button
Power connector
3.5 mm headphone jack
Speaker
Volume controls and mute switch
Tablet computers may also include:
microSD card slot
USB port
Docking port
HDMI out
Apple products do not offer the ports listed in the second group above, but there are many adapters produced by Apple and by third party manufacturers.
Many tablet computers feature Bluetooth connectivity. Keyboards and other accessory devices can be connected and synced to the tablet. Some tablet computers, such as the Microsoft Surface, are designed to look and feel like laptop computers via the attachment of special keyboards and other accessories.
A number of cases are available for tablet computers. Some protect the back or screen and others protect the whole device. Cases that extend battery life, waken the device on opening, or that have attached keyboards are available.
Materials
Tablet computers may be made of metal, glass, plastic, or some combination of those materials. Many Android models have plastic bodies while Apple iPads have aluminum bodies. There are several factors to consider when choosing a tablet computer based on its outer material:
Durability - Plastic scratches more easily but scratches on metal will be more noticeable. Plastic may have slightly more give when a device is dropped.
Heat - Metal may be hot to the touch while plastic may stay cooler longer.
Tablet computer screens may be constructed from glass or plastic.
Rugged tablet computers are constructed to be durable through extreme environmental conditions and even when dropped. An antimicrobial finish is an option with some manufacturers.
Rugged tablet testing.
Video Credit: MobileDemand Rugged Tablet PCs via YouTube
Security
Tablets offer features for data security and protection against viruses and theft. These features may be physically built into the tablet itself or available as add-on applications. Some features that may be available on a tablet include:
Password or PIN code
Fingerprint reader
Virtual private network (VPN) connectivity
Encryption
Device location
Remote data freezing and deletion
Anti-virus
2014 Tablet Comparison Guides
The number of available tablet computer options has grown in recent years. Making a choice may still be difficult even after narrowing down the desired application, type, and specifications. It can be useful to compare options side-by-side when conducting research to choose a tablet.
The following comparison guides are broken into three groups: small tablets, large tablets, and rugged tablets. There are many more tablets available on the market than are listed in this guide, but the guide provides a starting point to learning about some of the top tablets on the market. This data is current as of January 8, 2014.
Small Tablets (7" to 8")
MFG/Model
Apple iPad Mini, 2nd Gen
Samsung Galaxy Tab 3 7.0
Google Nexus 7
Kindle Fire HDX 7

Operating System

iOS 7
Android 4.1.2
Android 4.3
Fire OS 3.0 Mojito

Size/Weight

7.87"x5.3"x0.29"

0.73 lb

7.4"x4.37"x0.39"

0.67 lb

7.87"x4.48"x0.34"

0.64 lb

7.5"x5.0"x0.42"

0.69 lb

Processor

Apple A7

1.3 GHz

Cortex A9

1.2 GHz Dual-Core

Snapdragon S4

1.5 GHz

Snapdragon 800

2.2 GHz Quad-Core

Storage

16 GB - 128GB
8 GB - 16 GB
16 GB - 32 GB
8 GB - 64 GB

Battery Life (est)

10 hours
8 hours
9 hours
10 - 17 hours

Resolution/PPI

2048 x 1536

326 PPI

1024 x 600

170 PPI

1920 x 1200

323 PPI

1900 x 1200

323 PPI

Camera(s)

Front - 0.9 MP

Back - 5 MP

Front - 1.3 MP

Back - 5 MP

Front - 1.2 MP

Back - 5 MP

Front - 1.3 MP

Back - 5 MP

Internet Connection

WiFi, LTE
WiFi, LTE
WiFi, LTE
WiFi, LTE

Ports

3.5 mm audio

Lightning

3.5 mm audio

microSD, IR-port

3.5 mm audio

microUSB

3.5 mm audio

microUSB

Material

Enclosure - Aluminum

Screen - Glass

Enclosure - Magnesium alloy

Enclosure - Metal

Starting Price

$399
$179
$229
$139
Teardown analysis of similar products:
Standard Tablets (9" to 11")
MFG/Model
Apple iPad Air
Samsung Galaxy Tab 3 10.1
Google Nexus 10
Microsoft Surface 2

Operating System

iOS 7
Android 3.0
Android 4.2
Windows 8

Size/Weight

9.4"x6.6"x0.29"

1 lb

10.1"x6.9"x0.34"

1.25 lbs

10.39"x6.99"x0.35"

1.34 lbs

10.81"x6.79"x0.35"

1.49 lbs

Processor

A7

NVIDIA Tegra 2

1 GHz Dual-Core

Cortex A15

1.7 GHz Dual-Core

NVIDIA Tegra 4

1.7 Ghz Quad-Core

Storage

16 GB - 128 GB
16 GB - 64 GB
16 GB - 32 GB
32 GB - 64 GB

Battery Life (est)

10 hours
9 hours
8 hours
10 hours

Resolution/PPI

2048 x 1536

264 PPI

1280x800

149 PPI

2560 x 1600

300 PPI

1920 x 1080

Camera(s)

Front 1.2 MP

Back - 5 MP

Front - 2 MP

Back - 3 MP

Front - 1.9 PM

Back - 5 MP

Front - 3.5 MP

Back - 5 MP

Internet Connection

WiFi, LTE
WiFi, LTE
WiFi, LTE
WiFi, LTE

Ports

3.5 mm audio

Lightning

3.5 mm audio

30-pin dock connector

3.5 mm audio

microUSB, microHDMI

3.5 mm audio

USB, microSD, HD video out

Material

Enclosure - Aluminum

Enclosure - Plastic

Enclosure - metal

Screen - Gorilla Glass

Enclosure - VaporMg

Starting Price

$449
$379
$399
$449
Teardown analysis of similar products:
Rugged Tablets
MFG/Model
Fujitsu Stylistic M532
Motion J3600
Panasonic ToughPad A1
Xplore iX104C5

Operating System

Android 4.0
Windows 7
Android 4.0
Windows 7

Size/Weight

10.34"x6.9"x0.34"

1.1 lbs

12.7"x9.09"x0.9"

3.6 lbs

10.5"x8.4"x0.7"

2.1 lbs

11.2"x8.25"x1.6"

5.4 lbs

Processor

NVIDIA Tegra 3

1.4 GHz Quad-Core

Intel Core i7

2 GHz

Marvell Armada PXA2128

1.2 GHz Dual-Core

Intel Core i7

1.06 GHz

Storage

32 GB - 64 GB
16 GB - 256 GB
16 GB
80 GB

Battery Life (est)

8 hours
4 hours
10 hours
6 hours

Resolution

1280 x 800

1280 x 800

1024 x 768

1024 x 768

Camera(s)

Front - 2 MP

Back - 8 MP

3 MP

Front - 2 MP

Back - 5 MP

3 MP

Internet Connection

WiFi
WiFi, LTE
WiFi, LTE
WiFi, LTE

Ports

3.5 mm audio

microUSB, docking, SIM

numerous ports

microSD, microUSB, microHDMI

numerous ports

Durability Features

Not waterproof

MIL-STD-810G, water-resistant, Gorilla glass, shock-dampening, magnesium-alloy frame

MIL-STD-810G, all-weather, dust- and water-resistant

MIL-STD-810G, drop protection, extreme temps, thermal shock, debris

Starting Price

$449
$1,818
$1,600
$5,299
Standards
Tablet computers designed for use in rugged environments have their own sets of standards:
IEEE 1156.1-1993 - Microcomputer environmental specification for computer modules.
EN50155 - Railway applications - electronic equipment used on rolling stock.
MIL-STD-810 - Environmental engineering conditions and laboratory tests.
References
Operating Systems Market Share
8 Essential Features Every Tablet Buyer Should Look For
Everything You Need to Know About Touchscreen Tablets
Wireless Computing 2012 Tablet Buying Guide (.pdf)
Tablet Screen Resolution Chart
As Top Tablets Reach 'Retina' Resolutions, Which Has the Sharpest Screen?
Rugged Tablets in Demand in Construction
Total Cost of Ownership: Rugged Tablets vs. Consumer Tablets (.pdf)
Image Credits:
Xplore Technologies (rugged tablet) | tabletnews.com (screen resolution) | Vizio (port diagram)