XPR300™ technology advancements
Featured Product from Hypertherm, Inc.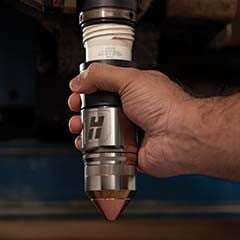 Hypertherm engineers developed these seven technologies that, when combined, create X-Definition:
HyFlow vortex or vented nozzle technology
Vented Water Injection (VWI)
Vent-to-shield
Plasma dampening
Cool nozzle™
Advanced arc stability
Arc Response Technology™
In addition to automatic system monitoring, the XPR contains a number of other features to redefine ease-of-use. These features include a patent-pending QuickLock™ electrode in which the electrode is tightened and loosened in a ¼ turn, an EasyConnect™ tool-less connection to the TorchConnect™ console, and a torch design that enables one handed torch change-outs. Learn more.

Play XPR300™ technology advancements Video