WS-3910 Liquid Flip-Chip Flux
Featured Product from Indium Corporation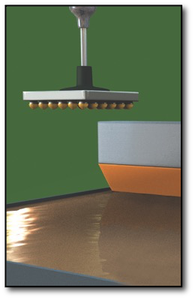 Indium Corporation has expanded its flux portfolio with a new liquid flux designed to meet process needs for low-temperature flip-chip applications.
WS-3910 is a water-soluble, halogen-free flip-chip flux that is designed for low-temperature—150°C—bismuth-tin applications. WS-3910 is chemically designed to exhibit minimal evaporation after
application. Its composition also eliminates compatibility underfills by having a completely water-cleanable residue.
WS-3910:
Features low evaporation after application, offering a more flexible process window than other similar fluxes; it does not dry out during reflow
Shows strong activity at low temperatures, with a current peak reflow temperature of 150°C, making it ideal for applications where oxide formation is unwanted
Compatible with spraying applications