Customized Control Panels
Featured Product from Industrial Flow Solutions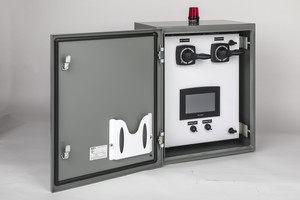 Controls are needed in a broad range of applications where equipment is tasked with ensuring liquids are managed effectively – delivering the right amount with optimal pressure and removing what does not belong. G&G Controls has experience maximizing system performance in the following applications – avoiding costly downtime, maximizing equipment life, and lowering energy costs.
Key Benefits:
Customized automation pump controls and level sensors
Manage an entire system of pumps and associated equipment
Graphical dashboards and numerical level indicators
Cellular based remoted monitoring options
Triplex control panels manage three pump operation Available in 5 float, 6 float or transducer set point modes
Implement Variable Frequency Drives (VFDs), booster pumps and transducers for maximum efficiency
Intrinsically safe panels
Manage electricity usage and maximize pump life
Manage output flow via PID loop, set point speeds or discharge pressure of pumps for lift stations
Includes transducers to monitor well water pressure to trigger help from other system component
Customization for any application utilizing touchscreens, heavy duty floats, level transducers and/or probes
Pumping systems must control several variables to maximize performance. Customized controls can implement VFDs, booster pumps and transducers for maximum system efficiency.