OverWatch - Direct In-Line Pumping System
Featured Product from Industrial Flow Solutions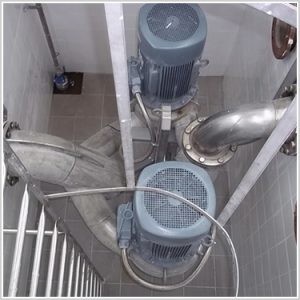 Imagine if you could significantly minimize environmental and safety risks, exposure to dangerous gases and hazards associated with confined spaces – all while reducing total cost of ownership for your sewar/wastewater system up to 65%. Industrial Flow Solutions manufacturers OverWatch, a direct inline pump system utilizing patented technology to decrease backups and blockages and eliminating retained volumes of effluent. Unlike traditional wet wells and lift stations, OverWatch enables materials to easily move through the system with minimal need to replace, repair or maintain your system.
Almost all of your typical issues are related to the wet well. OverWatch, the Direct In-Line Pumping System eliminates the wet well with a dry solution that cleans itself and requires minimal maintenance. Effluent feeds directly into the pumps from the point of entry without water loading or a wet well. This system:
Averts dangerous gases (H2S)
Eliminates smells
Prevents sand and grease accumulation
Avoids equipment corrosion and structural erosion
Removes obstructed float switches
Makes pulling pumps or climbing into the wet well unnecessary
Provides perpetual access safety
Reduces maintenance time and costs
In addition, OverWatch requires less installation space and structure depth which helps drive down overall civil engineering costs. With more than 2,000 systems installed globally, OverWatch offers a high level of monitoring and control - keeping a careful watch on your system, so you don't have to.