Horizontal Wheel Presses
Featured Product from Savage Engineering, Inc.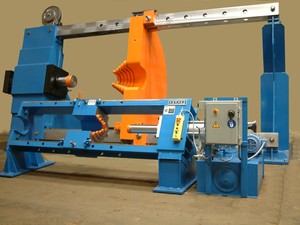 Savage Wheel Presses, also known as Horizontal Forcing Presses, are used for mounting/demounting wheels, bearings, gears, sheaves, pulleys, etc., onto/off shafts, axles, rolls, or armatures.
Style shown is inclined to allow overhead loading. Inserts are available for different shaft diamaters. Open design allows work of infinite lengths. Many sizes and models are available...
Vertical clearance between rails is typically 60", 72", or 84" (available 24" to 168")
Resistance bolster is power-driven along rails
Frame is typically inclined at 75o to allow drop-in loading by overhead crane
Frame can also be vertical or back-mounted for drop-in loading
Available with opposed rams
Corded pendant controls or radio control is available to enhance production
U-slot width is sized to clear your maximum shaft diameter
Powered pins option eliminates climbing up on taller presses with wide rail spacing
Capacities from 50 tons up to 800 tons
Used in many industries including mining, crane manufacturing, pumpjack manufacturing, paper mill equipment manufacturing, downhole drilling, rapid transit wheelset and railcar wheelset manufacturing, electric motor manufacturing, and other industrial repair facilities.
Savage hydraulic presses have been known throughout the industry for over 50 years for their rugged construction and durability. Each press is built with pride by our team of experienced craftsmen. Savage Wheel Presses are available in many sizes. Our applications engineers will review your requirements to help you determine the type and size of press best-suited for your work.