Portable Sample System Available
Featured Product from Shaw Moisture Meters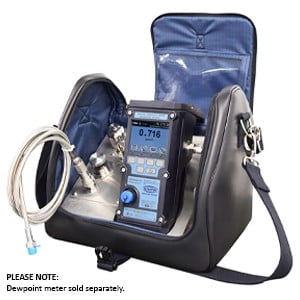 The SDH-PSS has the capability to condition pressurised gas samples up to a maximum of 200barg (2,900PSI). The sample flow is adjustable between 0 - 10 litres per minute. The removable housing allows easy access for filter cartridge replacement.
All the sampling elements are mounted on a stainless steel manufactured chassis. The pipework and fittings are also manufactured from stainless steel.
A choice of inlet fittings and an integrated flow indicator come as standard. The SDHmini Portable Sample System is fully configurable for your specific dew point measurement needs. Options are available for a filter unit, pressure regulator and stainless steel braided hose with Swagelok quick connect fittings.
The SDH-PSS is the ideal dew point measurement instrument for spot checking and sampling moisture content in gases and dry compressed air. Suitable for hazardous areas as there are no stored energy components on this sample system, making it extremely suitable for both Ex and non-Ex applications.
Seated in an anti-static PVC foam faux leather carrying bag with adjustable shoulder strap and internal pockets. The simple docking arrangement is effortless and fully compatible with the newest additions to the Shaw Moisture Meters range of portable dew point meters - Models SDHmini, SDHmini-L and SDHmini-Ex.
A fully configurable, portable sample system with effortless instrument docking and carrying case, make this an all in one dew point measurement and sampling system.