Network Cables Information
Network cables are used in the transmission of data across networks. The Engineering 360 database contains information about numerous types of network cable protoc
ols. These protocols can be further classified by the cable technology or intended application.
IEEE 1394 or FireWire® cables are used for very fast digital data transfer with PC peripherals, such as hard disks, CD-ROMs, graphics cards, direct video and monitors.
Industrial cables are used in automation, industrial control and sensing applications. AS-i, CC-LINK, Fieldbus and CANopen are all industrial protocols.
Parallel cables transmit multiple bits of information over separate lines. Small computer systems interface (SCSI) is an example of a parallel interface.
Patch cables are flexible cables with a plug on both ends. They are used to connect circuits on a patch panel.
Serial cables transmit data one bit at a time in sequence. RS-232/422/485, Fibre Channel, and USB are examples of serial protocols.
This video contains basic information about networking cables, connectors and wiring.
Video credit: eHow / Dimitri LaBarge / CC BY-SA 4.0
Connector Type
BNC connectors are bayonet-style locking connectors. They are typically used for A/V applications, as well as older devices and third party monitors.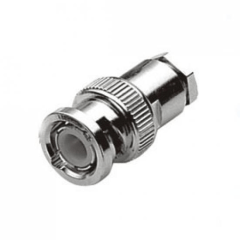 A BNC connector. Image credit: CONEC
Centronics® connectors are used with Centronics brand as well as third party peripherals.

A Centronics® connector. Image credit: Electro Standards Laboratories
DB connectors are used to connect computer peripherals. They are available with a variety of pin arrangements.

DB9 (9 pin) connectors. Image credit: APC by Schneider Electric
DIN connectors are designed to adhere to standards from Deutsches Institut für Normung (DIN), a German national standards body.
DVI connectors are able to transmit analog (DVI-A), digital (DVI-D) or analog / digital (DVI-I) data. The DVI-D is the most common DVI connector.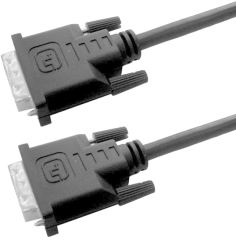 DVI connectors. Image credit: Digi-Key Corporation
FireWire® connectors are available in 4-, 6- or 9-pin configurations.
High-speed serial data connection (HSSDC) connectors facilitate high-speed data transmissions.
RJ connectors are modular connectors used for telecommunications and serial applications.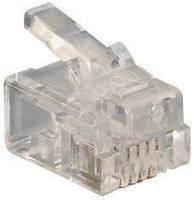 An RJ-11 connector. Image credit: Newark / element14
USB connectors are available in various sizes and configurations.

A USB connector. Image credit: Samtec, Inc.
Gender
Cable connectors are available in multiple gender configurations. Male connectors, sometimes called plugs, consist of a protrusion which fits into the female connector, sometimes known as a receptacle.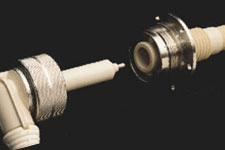 A male (left) and female (right) connector. Image credit: Amphenol Alden Products Company
Common cable configurations include:
Male-Male: both ends of the cable terminate in a male connector.

Male-Female: the cable features a male connector on one end and a female on the other.

Female-Female: both ends of the cable terminate in a female connector.
References
Directron - Layman's guide to network cable types
Image credit:
Pasternack Enterprises, Inc.