Serial Cables Information
Serial cables are used for the serial transmission of data. They support communication standards such as RS232, RS422, and RS485, as well as Fibre Channel, IEEE 1394 or FireWire® (Apple Computer, Inc.), and universal serial bus (USB).
Types
The Engineering360 SpecSearch database contains information about these types of serial cables.
RS232 cables support a typical transmission speed of 9600 bps at 15 m. They provide asynchronous communication capabilities with hardware flow control, software flow control, and parity checking. Most gears, instruments with digital control interfaces, and communication devices have an RS232 interface.
RS422 cables support multipoint connections and provide much longer transmission distances than RS232. The RS422 standard uses a differential transmission technology, and provides high-speed transmissions up to 10 Mbps over a maximum transmission distance of 1.2 km at 110 kbps.
RS485 cables are used in applications where a single controller needs to control multiple devices (up to 64). RS485 uses three-way instead of two-way transmissions, but is compatible with the RS422 interface. It provides a two-wire bus topology and provides a very inexpensive network system.
Fibre Channel cables consist of twisted-pair, coaxial, or fiber optic cables that use a high-speed, serial data transfer architecture. Small computer system interface (SCSI) devices can use Fibre Channel arbitrated loop (FC-AL), the most popular Fibre Channel typology. Using optical fiber, FC-AL supports full-duplex data transfer rates of 100 Mbps.
FireWire cables or IEEE 1394 cables are used for very fast digital data transfers such as streaming video. Applications include high-speed peripheral connections to personal computers, including hard disks, CD-ROMs, DVDs, graphics cards, high-speed scanners, and direct video.
USB cables use the universal serial bus (USB) standard for connecting computer peripherals such as keyboards, printers, and disk drives to personal computers (PCs). There are different numbered versions of USB, as well as micro and mini categories for each version.
Applications
The various types of serial cable may be also grouped by application. The application may determine the cable's dimensional and electrical specifications, as well as its end connectors and approvals and certifications. Suppliers offer serial cables for audio / video (A/V), automotive, imaging, medical, radio frequency (RF), and telecommunications applications. There are also cables for personal computers (PCs), local area network (LAN) and Ethernet applications, and industrial control and instrumentation systems. Cordage and extender cables are types of serial cables which may suit a variety of applications.
Specifications
In addition to application and type, other important serial cable specifications include connector type and gender.
Connector Type
BNC connectors are bayonet-style locking connectors. They are typically used for A/V applications, as well as older devices and third party monitors.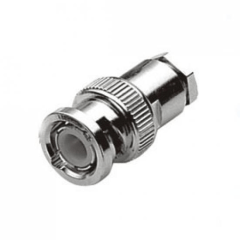 A BNC connector. Image credit: CONEC
Centronics® connectors are used with Centronics brand as well as third party peripherals.

A Centronics® connector. Image credit: Electro Standards Laboratories
DB connectors are used to connect computer peripherals. They are available with a variety of pin arrangements.

DB9 (9 pin) connectors. Image credit: APC by Schneider Electric
DIN connectors are designed to adhere to standards from Deutsches Institut für Normung (DIN), a German national standards body.
DVI connectors are able to transmit analog (DVI-A), digital (DVI-D) or analog / digital (DVI-I) data. The DVI-D is the most common connector.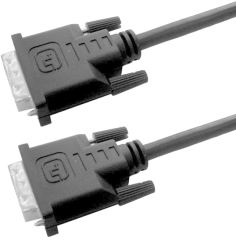 DVI connectors. Image credit: Digi-Key Corporation
FireWire® connectors are available in 4-, 6- or 9-pin configurations.
High-speed serial data connection (HSSDC) connectors facilitate high-speed data transmissions.
Small computer systems interface (SCSI) connectors are intelligent connectors used with computer peripherals.
RJ connectors are modular connectors used for telecommunications and serial applications.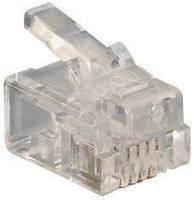 An RJ-11 connector. Image credit: Newark / element14
USB connectors are available in a various sizes and configurations.

A USB connector. Image credit: Samtec, Inc.
Gender
Serial cable connectors are available in multiple gender configurations. Male connectors, sometimes called plugs, consist of a protrusion which fits into the female connector, sometimes known as a receptacle.
Common cable configurations include:
Male-Male: both ends of the cable terminate in a male connector.

Male-Female: the cable features a male connector on one end and a female on the other.

Female-Female: both ends of the cable terminate in a female connector.
References
Connexions - Serial Port Communications
TALtech - Introduction to Serial Communications