SCSI Cables Information
Image credit: Tripp Lite; APC by Schneider Electric; Digi-Key Corporation
SCSI cables are used for high-speed bus connections between small computers and intelligent peripherals such as hard disks, printers, and optical disks. SCSI stands for small computer system interface, a set of standards for physically connecting computers to peripherals and transferring data.
Types of SCSI Cables
The GlobalSpec SpecSearch database contains information about these types of SCSI cables.
SCSI-1 allows asynchronous data transfer rates of 1.5 Mbps and synchronous transfer rates up to 5 Mbps. SCSI-1 has an 8-bit port that uses a 50-pin connector and single-ended, open-collector drives.
SCSI-2 has faster data transfer rates, better connectors, a wider bus path, parity checking, and better reliability via synchronous negotiation.
Ultra2 SCSI or Fast-40 has a bus speed of 40 MHz. Narrow (8-bit) buses have a maximum data transfer rate of 40 Mbps. Wide (16-bit) buses have a maximum data transfer rate of 80 Mbps.
SCSI-3 allows for faster data transfer rates and the use of up to 32 devices on a single chain. It incorporates serial connections in addition to the traditional parallel interconnect of SCSI-2. The serial interconnect of SCSI-3 incorporates three technologies: serial storage architecture (SSA), Fibre Channel, and IEEE P1394. The serial transfer mode allows faster data rates, more devices per bus, simple connectors and longer cables.
Ultra3 SCSI (Fast-80, Ultra160) has a bus speed of 80 MHz. Wide (16-bit) buses have a maximum data transfer rate of 160 Mbps.
Ultra320 SCSI has a maximum data transfer rate of 320 Mbps for the wide (16-bit) bus.
Serial SCSI is a very fast bus standard that supports data transfer rates up to 400 Mbps. It is a subset of IEEE 1394 or FireWire®, a registered trademark of Apple Computers, Inc.
Additional Specifications
Other product specifications for SCSI cables include application, connector type, and gender.
Application
An SCSI cable's intended use or application is important to consider when selecting a cable.
Audio/Visual (A/V) cables are used for audio and video applications, such as connecting speakers or monitors.

Computer cable is used for connecting computer-related peripheral devices, such as keyboards, mice, printers, and modems.

Network cables connect networking hubs, routers and switches.

Telecommunications cables are used in telecommunications applications.
Connectors
A cable's end connectors are often determined by its intended application. The GlobalSpec SpecSearch database describes the following connector types:
Centronics® connectors are used with Centronics brand as well as third party peripherals.

A Centronics® connector. Image credit: Electro Standards Laboratories
DB connectors are used to connect computer peripherals. They are available with a variety of pin arrangements.

DB9 (9 pin) connectors. Image credit: APC by Schneider Electric
High speed serial data connection (HSSDC) connectors are designed to facilitate gigabit-per-second (Gbps) data transmission.

Internal 50 pin SCSI connectors are used with internal SCSI-1/SCSI-2 applications, such as hard drives, CD-ROMs, and removable storage drives.

Telco 50 connectors have 50 pins, and are used to connect printers and other peripherals.
Gender
Cable connectors are available in multiple gender configurations. Male connectors, sometimes called plugs, consist of a protrusion which fits into the female connector, sometimes known as a receptacle.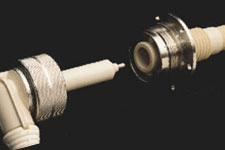 A male (left) and female (right) connector.
Image credit: Amphenol Alden Products Company
Common cable configurations include:
Male-Male: both ends of the cable terminate in a male connector.

Male-Female: the cable features a male connector on one end and a female on the other.

Female-Female: both ends of the cable terminate in a female connector.
References
Pacific Custom Cable - SCSI Tutorial