Ethernet Cables Information
Ethernet cables are designed to support Ethernet, a standard protocol for the connection of computers in a local area network (LAN). They use twisted pair cables and modular connectors, and are designed to run at 10 Mbps, 100 Mbps, or 1 Gbps.
How Ethernet Works
Ethernet cables transmit data in packets called frames, each of which contains the source address, the destination address, and error-checking functionality. Ethernet is standardized in IEEE 802.3, which describes the media access control (MAC) of both the physical layer and the data link layer.
Types of Ethernet Cables
10Base-T is a 10-Mbps standard implemented on twisted-pair cable with modular connectors. It uses pins 1 and 2, 3 and 6, in an 8 position modular plug / jack, typically called an RJ-45. Patch cables for 10Base-T Ethernet are usually pinned to the EIA / TIA 568A or 568B standard. This is the most popular type of Ethernet.
100Base-TX is the Fast Ethernet standard for 100-Mbps connections over Category 5 UTP / STP.
100Base-FX is the Fast Ethernet standard for 100-Mbps connections over fiber optic cabling.
1000Base-T is a specification for Gigabit Ethernet over copper wire (IEEE Standard 802.3ab). This standard defines 1-Gbps data transfers over distances of up to 100 meters using four pairs of CAT-5 balanced copper cabling and a 5-level coding scheme.
Applications
Intended application is an important specification to consider when selecting Ethernet cable.
Audio / visual (A/V) cables are used to connect audio and video equipment to a computer or display.

Computer cables connect hard drives, printers, monitors and other peripheral devices to a computer.

Extender cables are used to increase the length of another cable.

General communication cables provide data transmission and networking between computers, controllers and other devices.

Telecommunications cables are used to extend or replace cables for telephones and handsets.
Specifications
In addition to application and type, other important Ethernet cable specifications include connector type and gender.
Connector Type
BNC connectors

are bayonet-style locking connectors. They are typically used for A/V applications, as well as older devices and third party monitors.

DB connectors

are used to connect computer peripherals. They are available with a variety of pin arrangements.

RJ connectors

are modular connectors used for telecommunications and serial applications.

USB connectors

are available in a various sizes and configurations.
Gender
Ethernet cable connectors are available in multiple gender configurations. Male connectors, sometimes called plugs, consist of a protrusion which fits into the female connector, sometimes known as a receptacle.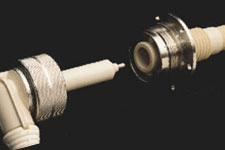 A male (left) and female (right) connector.
Image credit: Amphenol Alden Products Company
Common cable configurations include:
Male-Male: both ends of the cable terminate in a male connector.

Male-Female: the cable features a male connector on one end and a female on the other.

Female-Female: both ends of the cable terminate in a female connector.
References
Computer Technology Documentation Project - Ethernet
IEEE - Standard 802.3 Ethernet
Image credit: Automationdirect.com; Emerson Network Power; Conec; APC by Schneider Electric; Samtec, Inc.