Plastic Pumps Information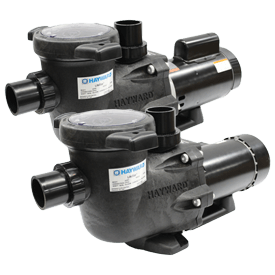 Plastic pumps are designed to move fluids that would corrode or damage other types of pumps. They provide broad chemical resistance and are less costly and lighter in weight than metal pumps. Disadvantages of plastic pumps include:
limited pressure ratings
reduced impact resistance
narrower temperature ranges
Some plastic pumps are designed to move abrasive materials, acids, adhesives, chemicals, concrete and grout, coolants, hazardous materials, liquid metal, or lubricants. Other devices are rated for combustible, corrosive, high viscosity, or high temperature media. Plastic pumps are also used to move gasoline, diesel fuel, and oil; ground water, potable water, salt water, and wastewater; sewage, sludge, slurry and ash slurry; gas and air; powders, solids, and rendering wastes; and a variety of liquids and liquids with solids.
Features
Plastic pumps are available with many features. Adjustable speed pumps can operate at speeds selected by an operator while continuous duty pumps maintain performance specifications at 100% duty cycle. Run dry capable pumps can operate without pumped fluid or external lubrication for an extended period of time. Self-priming pumps are designed to create and maintain a vacuum level that is sufficient to draw fluid into the inlet without external assistance. Some utility pumps include a battery backup, pressure gage, level control device, thermal overload protection, or suction. Other utility pumps are close-coupled, corrosion resistant, multi-stage, reversible, portable, plug-in, or seal-less. Sanitary, hygienic, and wash down duty models are also available. Non-clog pumps can move sticky or stringy materials. Pumps with strainers or filters collect solids. With frame-mounted devices, the pump end is mounted on a bearing frame that is coupled to the motor.
Specifications
Important specifications for plastic pumps include maximum discharge flow, maximum discharge pressure, inlet size, discharge size, and media temperature. Power sources include alternating current (AC), direct current (DC), compressed air, gasoline, diesel fuel, hydraulic systems, natural gas, water, and solar energy. Pumps that do not include a power source typically provide a drive shaft for connection to a motor. Manually powered pumps rely upon hand or foot power.
Applications
Plastic pumps are used in a variety of commercial, industrial, municipal, and maritime applications. Examples include agriculture and horticulture, dairy farms, breweries and distilleries, construction, flood control, food service and food processing, power generation, and oil and gas production. Plastic pumps are also used in the aerospace and defense, automotive, machine tool, mining, medical, pharmaceutical, semiconductor, and paper industries. Devices for heating, ventilation, and air conditioning (HVAC) systems are also available. Cryogenic pumps are rated for conditions where temperatures are low enough for gases to condense to become liquids or solids.
Related Information
CR4 Community—Pump for Galinistan—Very Corrosive Material
Engineering360—Plastic Components Join the Industrial Smart Parade
Image credit: