Drum Pumps Information
Drum pumps, also called barrel pumps, are designed to transport or dispense the contents of drums, pails, or tanks. Pumps are driven by a variety of methods including hand operation, electric, pneumatic, and hydraulic driven motors. Explosive environments or flammable fluids may require an intrinsically safe actuation method.
Operation
Most drum pumps utilize positive displacement to move fluids. Positive displacement pumps use expanding and contracting cavities to move fluids. They produce a constant flow suited for applications requiring high pressures (and low flow rates) with high viscosity fluids.
A vacuum drum pump in action can be seen here:
Video Credit: BestPump / CC BY-SA 4.0
Pump Types
The type of displacement pump suitable for a given process is application specific. There are a number of variations of positive displacement pumps. Diaphragm and piston pumps, which drive fluid via a pulsed discharge, are the most common drum types. For more information on these different types of pumps, visit IEEE GlobalSpec's Pump Types page.
Specifications
The primary specifications to consider when selecting drum pumps are flowrate, pump head, pressure, horsepower, power rating, outlet diameter, and operating temperature. A full discussion of these different specifications and their significance can be found on IEEE GlobalSpec's Pump Flow page.
Materials
The base material of a drum pump is important to consider, as it affects the type of media that can be handled effectively. System fluids may be abrasive, acidic, caustic, tacky, very hot, very cold, or otherwise hazardous. Base materials such as cast iron, plastic, and stainless steel possess different advantages for handling these various characteristics.
Plastics may be the least expensive base materials, and provide excellent corrosion resistance and protection from a broad range of chemicals.
Stainless steel alloys provide protection against chemical and rust corrosion, and have higher pressure ratings than most plastics.
Cast iron provides excellent strength and abrasion resistance, with high pressure ratings.
Features
Some drum pumps involve hand operation using handles, levers, or plungers to begin dispensation of the fluid (as seen in the picture below).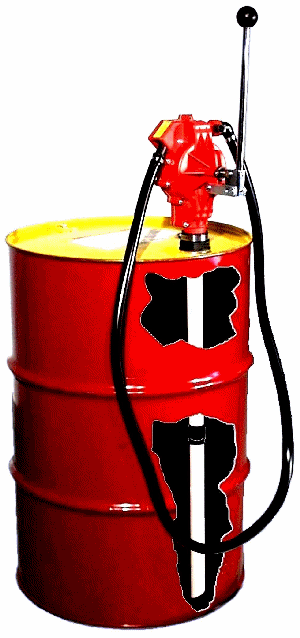 Image Credit: MORSE Mobil Site
Double action drum pumps allow the fluid to be delivered on the front and back or up and down stroke of the handle or lever. Drum pumps may mount manually or with a clamp. In on site or field refueling applications, a discharge hose and nozzle may be an integral part of drum pumps to avoid pouring or spilling the petroleum-based product. A nozzle or faucet may be installed above or below the pump. Although drum pumps may be portable and lighter in weight, it may be preferable to keep the pail, drum or barrel stationary due to the properties of the fluid and the pumping environment.
The pump features page on Engineering360 provides more information on different pump features and options available.
Applications
Drum pumps are used in fluid transfer processes in the chemical, water, marine, and paper industries, among others. They may be mounted on large tanks and may transfer corrosive media, cleaning solutions, salt water, or slurries to storage tanks or treatment systems.
Image Credits:
Binks | Wilden Pump & Engineering, LLC. | U.S. Plastic Corporation