Gripper Products Information
Description:
Gripper products are tooling components used in jigs, fixtures and clamps to hold a part in place by providing resistance with friction or slight surface penetration. Most gripper products have a serrated, pyramid shaped surface for gripping. In addition to the face, other features are available such as through holes for mounting, threaded and non-threaded shanks, and swivel heads.
Types of Grippers:
Round grippers are gripper products that can be recess-mounted in a flat-bottom hole, or surface-mounted for use as a rest pad. When installed in a hole, round grippers should project 50 - 100% of the serration height for maximum effectiveness. For blind-hole installation, round grippers also come in counterbored configurations.
Square grippers are similar to round grippers, but are especially useful when positive
resistance to rotation is required.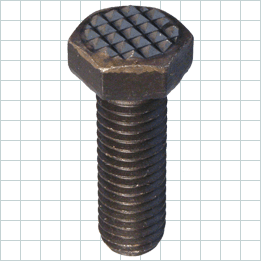 Gripper contact bolts can be used as an adjustable support, or as a contact bolt in a screw clamp. They are available in wide range of thread sizes and lengths.
Gripper swivel contact bolts have a built-in swivel ball held by a retaining ring. A positive-stop prevents the ball from swiveling too far. Larger products often feature a removable ball. With smaller sizes, the face is machined directly onto the ball.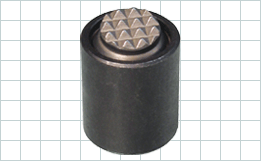 Gripper swivel pads are gripper products that can be surface-mounted or installed in a counterbored hole. They are made of steel or stainless steel, and have a rubber O-ring.
Gripper swivel screws are screw clamps with a build-in, hardened ball made out of tool steel. They use gripper serrations to provide position holding force.
Some gripper products can be installed from one side with a combination center drill, a tap, and a box wrench. Others require the drilling of through-holes.
Materials:
Tapped round grippers and tapped square grippers are usually made of hardened tool steel, solid carbide, or steel with brazed carbide.
Hardened tool steel gripper products are the most economical and impact resistant; however, carbide grippers are the most durable.
Materials of construction for gripper products include low carbon steel and high-speed tool steel. Low-carbon steels contain up to 0.30% C. The largest category of this class of steel is flat-rolled products, usually in the cold-rolled and annealed condition. High-speed tool steels are hardened steels that are used in the manufacture of tools and guides.
References:
Image Credits: