Sawing Machinery Information
Sawing machines cut raw materials to specified lengths or sizes. Sawing machines are industrial-strength saws or knives designed for heavy, repeated use and often have automatic or semi-automatic operation. Metal sawing requires a saw with a fine-toothed blade. As a general rule, at least three teeth should touch the material.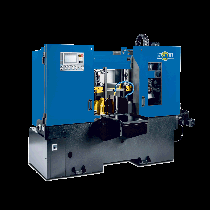 The blade of a band saw machine is a narrow band of toothed metal. Band saws are well-suited for cutting irregular shapes. Wire sawing uses diamond-encrusted wire to cut thick or awkward concrete or masonry shapes, such as bridge sections, jetties, columns, or beams. Wood sawing machines that are used for log cutting can be circular saws, band saws, or reciprocating saws.
Operation
Sawing machines can be floor- or bench-mounted. They operate at speeds such as 3,900 rpm or 5,000 rpm. Options include a large footplate for stability and increased depth of cut; left-side or right-side handles for operator control and safety; lock-on buttons for extended cutting; a quick-release, pivoting vise for securing the workpiece; a locking arbor for quick wheel changes; and a magazine loader. Abrasive sawing machines use abrasive discs for cutting tough, hard materials.
Types
There are multiple types of sawing machines.
Band saw: A band saw uses a metal band with sharp teeth wrapped around a driven pulley, and an idler pulley used to perform cutting operations.
Circular saw: A circular saw uses a solid metal disc shape blade with sharp teeth spun at high speeds to perform cutting operations.
Reciprocating saw: Reciprocating saws have a long strait blade with sharp teeth. This blade is moved back and forth to perform sawing operations.
Vertical panel saw: Vertical panel saws are used to cut large sheets of material such as drywall and plywood.
Configurations
Sawing machines are commonly floor- or bench-mounted with a user interface to manage the automatic capabilities of the machine. The most prominent components of a sawing machine are the motor or engine that supply's the power, the cutting blade, the control apparatus, and the safeguards for personnel safety.
Specifications and Features
Specifications
The following specifications determine the functionality of a sawing machine.
Cutting capacity: The range of size of the material to be cut.
Features
These features provide additional utility or ease-of use.
Diamond saw blade: The sawblade is affixed with diamonds allowing the blade to saw through harder material.
Forging industry: This machine is designed to be used in the forging industry.
Swivel head: A swivel head allows for the saw to cut at some angles.
Miter cutting: A miter cutting sawing machine can be used to cut at many different angles.