Safety Clothing Information
Safety clothing regards items of personal protective equipment (PPE) that are intended to keep the wearer safe from needless risk and danger. Individuals exposed to fire, extreme heat or chill, hostile weather, toxic chemicals, puncture or ballistic risks, contaminants, electrical charge, or low visibility should be outfitted with appropriate attire to minimize risks.
This guide does not chronicle the following PPE, which have separate editorials: ear protection; eyewear; face shields; fall arrest systems; footwear; helmets and hardhats; respirators and dusk masks; safety gloves; and welding gloves, helmets/goggles, and welding jackets and clothing.
The proficiency of safety clothing is dependent upon the material and design of construction. Items of safety apparel typically have an explicit purpose and the garment may not be suitable for applications outside of the manufacturer's recommendation. In many territories employers are required to assess occupational risks, provide PPE, and train employees in its usefulness. Safety clothing is generally considered as the last line of defense from peril and safety policies are the best means of protecting personnel from injury. Alas, safety clothing remains an integral part for all individuals exposed to adverse industrial processes.
Video credit: Caterpillar Inc.
Applications
Since design is the most vital characteristic facilitating the garment's utility, there are general materials and designs that best serve certain functions. They are noted in the table below.
| | | |
| --- | --- | --- |
| PPE function | Common materials | Design specifications |
| Improved visibility | Polyester, cotton, acrylic, or fluoropolymer fabrics with reflective markings. | These items are colored in fluorescent yellow or orange to help distinguish human figures in many applications. These come in variety of articles, but outerwear is most common. |
| Chemical resistance | Inert or chemically resistant materials: butyl, cotton, polyester, neoprene, nitrile, fluorelastimer, rubber, latex, PVA, PVC, vinyl, and viton. | Extended cuffs and a tight-fit provide wearers with flexible, unencumbered movement. |
| Fire resistance | Leather, treated cotton, aramids, carbon fiber, and fluorpolymers with fleece or aluminized linings. | Items are not fireproof, but fire retardant. |
| Static control | Nitrile, nylon, carbon fiber, and rubber, perhaps with acrylic fibers of a polyurethane coating. | Attire is meant to prevent static discharge to sensitive electrical components. |
| Anti-contamination | Dense, ESD controlled, and antimicrobial fabrics like nitrile, neoprene, latex, tri-polymer, and synthetic nitrile polymer. | These items are typically in ensemble to provide complete coverage. |
| Puncture resistance | Chainmail, leather, spandex, nylon, aramids, fiberglass, nitrile, and polycotton blends. | These items will have polymer, rubber, or PVC reinforcement in material joints. |
| Ballistic resistance | Almost exclusively tight woven, synthetic fibers. Aramids like Kevlar® and Twaron® as well as thermoplastic polyethelenes and laminated fibers. Fabrics with inserts for metal or ceramic plates/scales provide the best protection. | Usually only required in law enforcement and security industries. |
| Heat resistance | Leather, treated cotton and denim, carbon fiber, acrylics, polyester, sateen, and para-aramids. May be lined with fleece or polyester. | Items are heat resistant, but not necessarily fire retardant. |
| Cryogenic resistance | Aluminized shell and fabric lining, as well as nylon taslan, PTFE, and silicone fabrics. | Prevent frostbite when handling cryogenic liquids or exposed to cryogenic temperatures. They are never designed for liquid immersion. |
| Cold weather protection | Cotton, polycotton, polyester, fleece, wool, and acrylic blends often with a polymer or rubberized shell. | General-use, cold weather PPE. |
| Rainwear | Sometimes with natural rubber for arc flash protection; PVC, polyurethane, nylon, and polyester. | Rain can pose a serious risk in some applications, and rain suits or full coverage is encouraged. |
| Sun protection | Polyester, nylon, wool, and silk reflect UV radiation well. Fabric color makes a significant difference as to the amount of light reflected. | Primarily hats and shirts for hot or tropical climates. |
| Arc flash protection | Modacrylic-cotton blends are best. Also, carbon fibers, flame-resistant cottons, polyurethanes, and para-aramids. | Highly regulated by government/standards bodies. See standards section below. |
| Biohazard | Latex, nitrile, rubber, vynil, neoprene, PVC, butyl, cottons, polyester, and acrylic fibers. | PPE coverage varies according to environment, from medical examination scrubs to hazmat, pressure-controlled suits. |
| Radiation protection | Listed by degree of increasing protection: cotton & synthetic fibers; plastic bibs/aprons, PVC, latex; rubber, plastic-coasted non-woven fabrics; lead and lead lined garments. | The intensity of the radiation determines the level of protection required. Pressurized, lead-lined suits are reserved for extreme radiation exposure. |
| Ergonomic support | Virtually any conforming fabric, but especially leather and polyester. Foam, gel, and rubber provide comfortable support against skin, while polymers provide a durable skeleton. | Items vary based upon the relief of uncomfortable pressure on human anatomy. Knee, elbow, and ankle pads, as well as back supports. |
| Welding | Visit the welding gloves and welding clothing selection guides. | |
Types
When classified by the coverage of anatomy, articles of clothing become easily identified. The following table lists articles of clothing and the degree of coverage they offer. Most of the garments mentioned below are available for any of the above functions with the appropriate construction. Some notable exceptions include belts and joint pads, which are primarily used for ergonomic support; socks, which rarely function beyond keeping the user warm and comfortable; and pressure suits, which are reserved for environments with extreme radiation, biohazard, chemical, and temperature risks. Safety gloves are represented elsewhere on IEEE Engineering360, and leather work boots with steel support and a rubberized sole is appropriate for most personal protective equipment (PPE) applications.

Features
Breakaway
Breakaway garments have weak-closing binds such as Velcro or snaps. If the garment becomes ensnared in machinery the item will become unbound, releasing the wearer from potential mechanical risk.
Canine
Working canines require much of the same protection as their handlers, and such protection is provided by uniquely-manufactured dog vests. Improved visibility and puncture/ballistic resistance are some of the most
prominent reasons to outfit canines with PPE, as well as to prevent confusion of the animal as a pet.
Cooling
Cooling items of PPE incorporate breathable and/or moisture wicking fabrics to keep the bearer comfortable while working in warm environments.
Hydration Pack
Garments with an internal bladder sewn between fabric layers hydrate the wearer by the use of a hose with mouthpiece near the collar of the item. This keeps the wearer hydrated during isolated or extended procedures.
Labeling
In situations involving many workers in various positions, it may be helpful to have PPE labeled by name or job title. This is especially important in emergency incident command where officials may need to be easily recognized to coordinate efforts.
Laundering
Many items of PPE are eligible for typical machine washing, but some properties of the PPE may be adversely affected by the detergent or washing process. Most clean room, biohazard, radiation resistant, and anti-contamination clothing is meant for one-time wear. Materials for arc flash protection, heat and fire resistance, welding, chemical resistance, and static control have strict specifications for laundering.
LED Illumination
PPE with integrated circuits powering LEDs ensure the best possible visibility—superior to that of typical bright-colored, reflective clothing.
Radio Interface
In PPE headgear that may disrupt auditory cues, radios may be integrated or supported to allow workers to communicate directly. Communication may be one-way (directive) or two-way (discussive).
Standards
Many governments take liberty in regulating protective equipment for dangerous occupations. As an example, OSHA legally advises employers on implementing PPE in the workforce, in line with Article 1910, Subpart I. Other assorted and useful standards include:
Infographic

Applications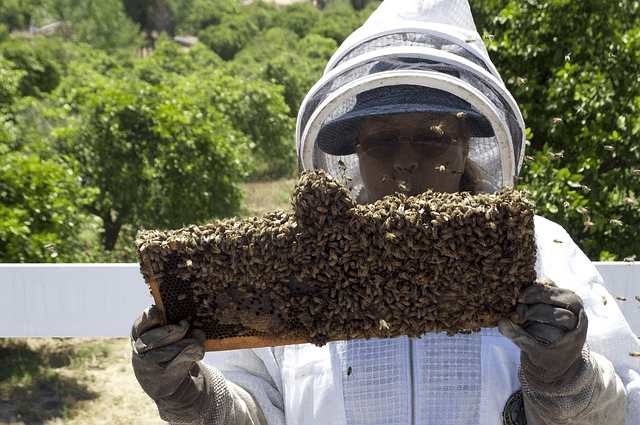 Many applications requiring personal protective equipment (PPE) are obvious: traffic control, construction, firefighting, lineworking, hazmat response, and security. Other jobs may be less obvious, but government agencies require in many territories that employers assess occupational risks and provide PPE at their expense. As such, it is always better to err on the side of caution and protect workers appropriately. Eliminating or reducing hazards are a better method of ensuring worker safety and PPE should not be relied upon to guarantee welfare.
Often, the aforementioned PPE is not specific enough for tasks and specially-constructed garments are produced to mitigate unusual risks. Insect farming utilizes oversized uniforms to keep workers safe from stings and swarms. Underwater diving requires the use of warm, tight, and durable fabrics. Ultra-high pressure washing and cutting operators require the use of PPE that is waterproof and puncture resistant for water pressures up to 50,000 PSI. There are many instances of job-specific safety clothing. Finally, PPE is very prevalent in sports and recreation, as athletes, hunters, and drivers utilize apparel with safety features to minimize injury.
Resources
Wikipedia — Personal protective equipment; Usage of personal protective equipment; High-visibility clothing;
Innotech Products Inc. - Disposable Cleanroom Apparel
Magid Glove and Safety Manufacturing Company LLC — Protective Clothing
REI — Sun Protection Clothing Basics
Tractor Supply Co. — Safety Apparel
Image credits:
Linde North America Inc. | Scott Safety | Steven depolo / CC BY 2.0