Safety Gloves Information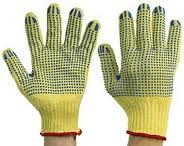 Safety gloves are hand garments meant for the protection of the wrist, hand, fingers, and thumbs from adverse processes or conditions. These items are virtually limitless in application and find employment in both industrial and commercial marketplaces. Their functionality is determined by the material and design of the glove.
Safety Glove Operation
As a form of personal protective equipment (PPE) gloves defend the user's hands from general risk. These items may protect from occupational hazards as well as recreational risks where the hands are heavily involved in the completion of a task. Gloves feature individual sheaths for each digit to allow articulation and sensation, though these capabilities vary. Gloves are either nominally-sized or dimensioned universally, but good fitting gloves provide the best finger expression, safety, and comfort. Many gloves extend their coverage beyond the wrist; cuff styles vary according to the glove's purpose.
Gloves are usually intended for specific applications but may be suitable for other duties. The usage of gloves should never fall outside the service scope provided by the manufacturer. The most common reasons to wear safety gloves is to provide the following: heat/chill resistance, puncture and cut resistance, static control, chemical resistance, flame retardation, anti-contamination, enhanced grip, water proofing, and hand visibility. The material and design of the glove dictates for which applications the garment is suitable. It is advisable to wear other items of PPE if a job requires the use of safety gloves.
Types
While an unabridged list of safety gloves may never be feasible the following accounts for the styles, applications, and design considerations of many glove types.
| | | |
| --- | --- | --- |
| Type of Glove | Material/Construction | Image |
| Aircrew gloves are manufactured to keep the hands of a flight crew warm while also providing flame resistance, water resistance, and enhanced grip for instrument control. | Leather palms and fingertips, with other fire resistant fabrics like treated cotton or Nomex®. | Image credit: Bennett Safety Wear |
| Anti-vibration gloves are meant to protect a worker's hands when using oscillating tools such as jackhammers or drills. They often feature some puncture resistance as well. | Largely composed of leather, polyester, nylon, polymer, spandex, or cotton. Glove palms may feature vibration-dampening padding consisting of leather, gel, or foam rubber inserts. | Image credit: Stihl USA |
| Antistatic glovessuppress dust-collecting electrostatic charges when handling delicate components. These dissipate electric static through the materials of construction. | Nitrile, nylon, and carbon fibers are most common. Thunderon® acrylic fibers or a polyurethane coating may be incorporated | Image credit: Kinetronics |
| Chainmail gloves offer unrivaled protection to puncture and slashing. These are used in food preparation, wood working, and other high-risk puncture situations. | Metal chain linked into fabric. Leather or cotton may provide additional comfort and binding. | Image credit: DIY Trade |
| Chainsaw gloves are specifically meant for chainsaw operation. Incorporating elements of grip, puncture and moisture resistance, and vibration dampening, these gloves are important for logging. | Largely composed of leather, ballistic nylon, and spandex. Knuckleguards, palms, and wear points may feature polymer, rubber, or PVC reinforcement. | Image credit: Stihl |
| Chemical gloves are designed for the safe handling of chemicals, including dangerous acids and bases. A large variety of materials are available since some materials become brittle, hard, stiff, cracked, or weak in the presence of certain substances. Varying degrees of thickness and surface finishes are common. They may be disposable. | Including, but not limited to, homo/heterogeneous designs of: butyl, cotton, polyester, neoprene, nitrile, fluorelastimer, rubber, latex, PVA, PVC, vinyl, and viton. | Image credit: Howards Malta |
| Cleanroom gloves are suitable for laboratory and contaminant-free environments. These are form-fitting to provide workers with adequate dexterity. They protect a worker's hands from chemicals/abrasion while also minimizing pollutants. They are usually disposable. | Composed of nitrile, neoprene, latex, tri-polymer, or synthetic nitrile polymer. | Image credit: VWR |
| Cryogenic gloves protect human hands and arms in extremely cold atmospheres (liquefied nitrogen, etc.). These items come in many cuff styles, some extending to the shoulder. They offer excellent thermal efficiency, water resistance, and flexibility. | Almost exclusively nylon taslan, PTFE, and silicone. | Image credit: Cardinal Health |
| Driving gloves provide any vehicle operator with enhanced grasp of a control mechanism. These are helpful in warehouse and transportation workplaces, and may feature some flame resistance. They usually have an exposed knuckle and opisthenar for added flexibility. | Exclusively leather. | Image credit: New Grip |
| Electrical gloves are required when working in any kind of voltage application and can prevent electrical shock, arc flash, and arc blast. These items have been voltage rated and may offer some abrasion resistance as well. | All electrical gloves are made of natural rubber. Leather may be incorporated for comfort and tear resistance. | Image credit: JM test Systems |
| Firefighter gloves are high strength, flame resistant, thermally efficient, waterproof gloves meant for firefighting operations. Structure fire and wildfire variants differ in construction, with structural designs needing additional puncture resistance and dexterity. Chemical firefighting will require proximity gloves, a type of glove capable of withstanding higher temperatures (1,500°F). General lifesaving uses rescue gloves (see below). | Firefighting gloves are leather in composition, but may be lined or cuffed with cotton or Nomex®. They can sometimes double-stitched with Kevlar® or double-palmed. Proximity gloves are made of aluminized materials. | Image credit: Axmen Fire Equipment |
| Flame retardant gloves offer superior protection to industrial processes that may put a worker's hands near open flame or sparks. These are usually less durable than firefighters gloves, but are also subject to less labor. They provide additional puncture resistance in industrial tasks. | Leather, carbon fiber, Nomex®, and Goretex® are common materials. Gloves may be lined with fleece or cotton. | Image credit: Coats Industrial |
| Glovebox gloves are gloves intended to be used in conjunction with a glovebox: a mechanism for manipulating components within an enclosure. Appropriate gloves are determined by the object needing attention. These come in a variety of lengths, colors, and thicknesses. These can be disposed once an application is complete. | Consisting of inert materials, like butyl, hypalon, and neoprene. | Image credit: Buderer Drug Co. |
| Garden gloves are general, multipurpose gloves for landscaping and terrain repair. They oppose abrasion while enhancing grip. | Leather, canvas, jersey, knit, cotton, latex, plastic, rubber, and vinyl. | Image credit: Perfect Gardening Tips |
| Inspection gloves are contrary in purpose to most glove designs; objects and procedures are protected against the abrasive/oily texture of a human hand. Fabrics are lightweight, lint-free, and breathable with stress on tactility. | Cotton, polyester, nylon, acrylic fibers and their proprietary blends, or synthetic, patented materials (Thermaknit®, Thermolite®). | Image credit: Optics Planet |
| Medical glovesare disposable gloves serving primarily as a biohazard barrier between caregivers and patients. They do not serve much purpose outside of providing a dexterous, impermeable barrier. Triage gloves are less crafted than surgical gloves. | Most prominently latex, but also nitrile, rubber, vinyl, and neoprene. Powdered cornstarch is sometimes used to keep gloves pliable. | Image credit: Safa Medical |
| Mechanic's gloves face unique challenges when worn by machinery repair workers. Abrasion and impact resistance, material and tool handling, weatherability, oil resistance, flexibility, and visibility are all considerations when manufacturing mechanic's gloves. Closers and cuffs vary accordingly. | Materials are not limited to: leather/suede, polyester, nylon, spandex, cotton, rubber, PVC, Clarino®, neoprene, and Kevlar®, along with foam, gel, and TPR padding. | Image credit: Craftsman |
| Rescue gloves are designed for general purpose operation during traumatic incidents. They are primarily worn by police, fire, and search and rescue companies so workers can have puncture resistance, cold weather insulation, enhanced grip and sensitivity, and reflectivity in emergency situations. They are not suitable for firefighting, though they may be fire/heat resistant. | Leather foundations with high-strength materials such as polymer/TPR shells, carbon fibers, neoprene, nylon, aramids, Cordura®, Kevlar®, and Clarino®. | Image credit: 2 Hot Activewear |
| Sandblasting gloves are intended to be used with abrasive blasting techniques and protect the users hands and arms from overspray. They have extended cuffs, and the material of construction makes them alkali and acid resistant while also providing additional grip. | Neoprene, vinyl, rubber, and leather materials, with cotton lining. | Image credit: Magid Glove Co. |
| Tactical gloves provide police, military, and security personnel with enhanced grip, puncture resistance, contamination control, and digit articulation when in confrontational or hostile operations. A sleek, covert design allows the wearer control of weapons and tools. Many designs are fingerless. | Primarily made of leather, nylon, neoprene, spandex, amara, Lycra®, Kevlar®, Nomex®, and/or Spandura®. Linings may include foam, microfleece, polyester, Thinsulate®, Kevlar®, or Nomex®. | Image credit: 511 Tactical |
Safety Glove Variants
Finger guards are individual leather sheaths to protect fingers from cuts during woodworking and other bladed hand tool operation. They do not offer the palm or knuckle protection, and consist of leather and spandex. Finger guards are opposed to hand guards, which are essentially fingerless gloves. Hand guards' main advantage is that the fingers and thumb remain uncovered resulting in unconstricted movement. These items expose fingers to risk while protecting the palm and opisthenar. Finally, though mittens may seem ludicrous they are more thermally efficient. In very cold/hot environments where finger expression is unimportant, industrial mittens may prove advisable.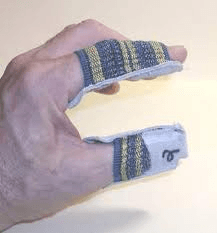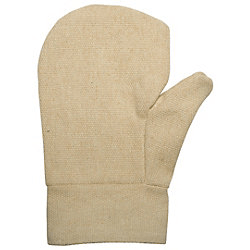 Images credit: Texas Wood Carvers; Grainger
Standards
These assorted standards can provide reference when determining safety glove needs.
Resources
Wikipedia - Personal protective equipment
eHow - Uses for Industrial Gloves
Magid Glove & Safety Manufacturing Company LLC - Work Gloves
Ansell Pro - Product Catalogue
Images credits: Warwick Mills; Ar Flash Clothing