SPIRAL WRAP TUBINGS FOR HARNESSING
Featured Product from BRIM Electronics, Inc.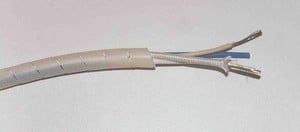 Easily twists on and off. Can be repeatedly flexed without cracking or breaking. Expandable. Holds wire and cable bundles securely and allows leadoffs or additions at any point. Bends around sharp corners and protects against sharp edges. Available in 4 types of insulations: Polyethylene, Rulan (a flame retardent type of polyethylene), Nylon, & PTFE. All are resistant to organic solvents, alkalist and acids, (except Nylon is not satisfactory for strong acids). OSHA approved for harnessing cables.

POLYETHYLENE (CLEAR)+ -105°F TO +215°F
RULAN (WHITE)++ -8°F TO +200°F
NYLON (NATURAL)+++ -121°F to +300°F
PTFE (NATURAL)++++ -450°F to +500°F

STD. P-U: 1/8" to 1/4'' -- 100', 500',1000'; 3/8" to 1/2" -- 100', 250', 500'; 3/4" & 1" -- 100',250'.
BLACK NYLON & POLYETHYLENE SPIRAL WRAP FOR ULTRA-VIOLET RAY PROTECTION IS AVAILABLE.