Custom Tube Straightening Presses
Featured Product from Savage Engineering, Inc.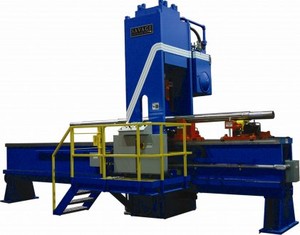 Savage has manufactured more of these straightening presses than anyone. This has allowed us to develop accessories for a wide range of applications for straightening as-forged, rough bars or ground bars. Press configurations also allow straightening of tubes/bars with multiple diameters and extra long workpieces. Savage presses allow you to meet delivery schedules, ship higher quality products and reduce rejects.
With in-house straightening, your customers are happier when receiving straight bars. With in-house machining or grinding operations, the straightening operation dramatically reduces material to be ground off and minimizes rejects due to re-bending after grinding. The stresses can be removed in the straightening operation!
The Traveling Gantry TFS Straightening press with full tonnage bed and powered accessories help make these fully featured presses the premium straightening solution. Powered/pushbutton functions include: Gantry, bar lift, bar rotation as well as powered positioning of all straightening accessories along the bed.
The Fixed Frame Straightening Press FFS saves money and delivery time since it has a shorter full tonnage bed with extension tables on each side to support the work for indication. The accessories include as follows: Fixed gantry, Automatic bar lift (spring load), Manual rotation rollers, and manual positioning of the accessories with spring loaded wheels to assist. The FFS press is used on tubing and smaller bar diameters where the lesser weight allows manual bar movement under a fixed ram.
The Hybrid HFFS Press features a fixed press with powered-bar feed conveyors. The workpiece is powered into the fixed pressing station. Powered accessories for round and flat bar straightening applications are available.
Savage has many straightening press models available to best suit your needs.
Please contact the writer with any comments or interest.
Dan Wolbert
President
Savage Engineering Inc.
(Ph) 216-587-2885
(Fax) 216-587-0613
(Email) savagepress@msn.com
(Website) http://www.savagepress.com