Custom Wide Bed Straightening Press
Featured Product from Savage Engineering, Inc.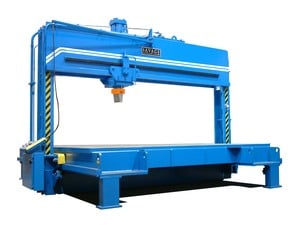 Savage's Traveling Gantry Straightening Presses can handle steel plates and fabrications of massive proportions and are well-equipped and available in a range of sizes to achieve your application.
In addition to these standard features, we customize every traveling gantry straightening press to meet your unique requirements. We'll work with you to determine:
Tonnage
Stroke
Bed size / Loading area size
X-Axis gantry travel distance (L-R)
Y-Axis ram coverage (F-B)
Z-Axis daylight opening
Anti-rotation guide rod that allows for directional tooling
For nearly 60 years, Savage Engineering has been designing and building high quality, durable custom hydraulic presses to meet each customer's unique needs and exact job specifications. Our process is fully integrated from concept to delivery. You'll receive onsite installation, training, and technical support throughout the operating life of your press.
Contact Us Today to Discuss Your Application! (216) 587-2885