Tube Straightening Press
Featured Product from Savage Engineering, Inc.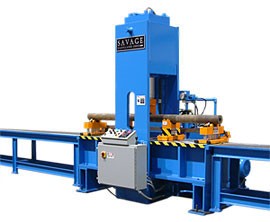 For straightening medium weight shafts, Savage offers the Fixed Frame (FFS) narrow bed or fixed gantry straightening press. Roller stands permit crane loading and shaft positioning under a fixed ram.
The shaft must be manually positioned under the ram, by moving it across the rollers. This provides an economical method of positioning heavy shafts
Straightening accessories include: Manual workpiece rotation (indication) standswith automatic (spring) worklifts, pressing anvils connected as a carriage for manual positioning along the bed.
Also available are powered barfeed rollers to bring heavy shafts/tubes into and out of the press. Power lift and power rotation are also available for very heavy work.