Compact Safety Light Curtains with Bluetooth
Featured Product from Schmersal Inc.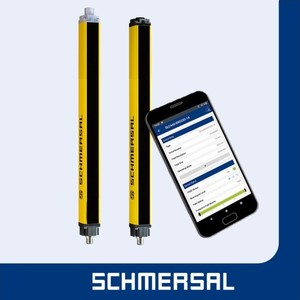 The SLC440COM safety light curtain is a Type 4 active optoelectronic protective device (AOPD), that senses the disruption of its defined protection field. This presence sensing device features an emitter and receiver pair in two separate enclosures. An infrared signal is tranmitted by the emitter and evaluated and monitored by the receiver. An interruption of the beams by an object or person will trigger an output signal to safety bring hazardous machine movement to a standstill.
Operating status is clear and can be seen from a distance. The end cap of the receiver unit is molded from a semitransparent plastic that is illuminated by LED. It shows green for proper operation and red for a fault. This signal light is also used during setup to show alignment.
The SLC440COM series features a one-piece extruded reinforced housing in a compact 28 mm x 33 mm rectangular profile. This housing profile has proven to be less susceptible to mechanical damage and misalignment from torsion or bending beacause it does not rely on the lens for stuctural support.
SLC440COM Safety light curtains are used for the protection of hazardous areas, and are available with resolutions of 14, 30, or 35 mm and protection field heights between 330 and 1930 mm. They are also available for perimeter guarding as safety light grids (SLG440COM) with 2, 3, or 4 beams. The series is suited for use in safety circuits up to PLe (EN 13849) or SIL3 (IEC 61508).
There is also an IP69 rated enclosure available for hygienic applications requiring wash downs.
Schmersal is now integrating a Bluetooth interface in our SLC440COM Safety Light Curtains as a standard feature. The Bluetooth Low Energy system is used for near-field data transmission, which provides secure data transmission up to 5 meters. The data transmitted from the safety light curtains with Bluetooth interface is accessible by the Schmersal SLC Assist App, available for Android and iOS smartphones and tablets.