Cutoff Machines Information
Cutoff machines are designed to cut hard materials such as metal pipe and tube, concrete and masonry. Applications for cutoff machines include building and construction, emergency rescue and concrete and paving. They are also known as chop saws and abrasive saws.
Configurations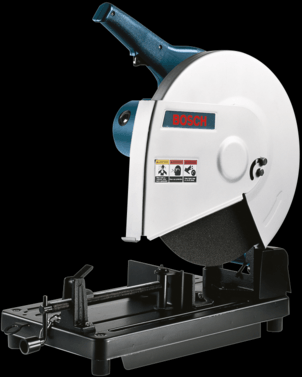 Cutoff saws are commonly bench top or hand operated saws but may also come as a free-standing saw on its own. All cutoff machines use an abrasive blade which allows it to cut through very hard materials and that blade can be powered by either a gasoline engine or electric motor.
Specifications and Features
Specifications
The following specifications determine the functionality of a cutoff machine.
Power source: The power source of the cutoff machine is an important specification. A bench top cutoff machine is almost always electric while a hand-held cutoff machine may be electric or have a small gas engine. The two most important aspects of the power source are the weight it ads to the cutoff machine and the power.
Blade diameter: The blade diameter of a cutoff machine is important to cutoff machines, as it plays a part in which material and how much of it the machine can cut.
Cutting capacity: The size of the medium that can be cut.
Motor power: The actual power of the motor or engine that powers the cutoff machine.
Features
These features provide additional utility or ease-of-use.
Miter cutting: The cut off machine can cut intricate angles.