Shutters Information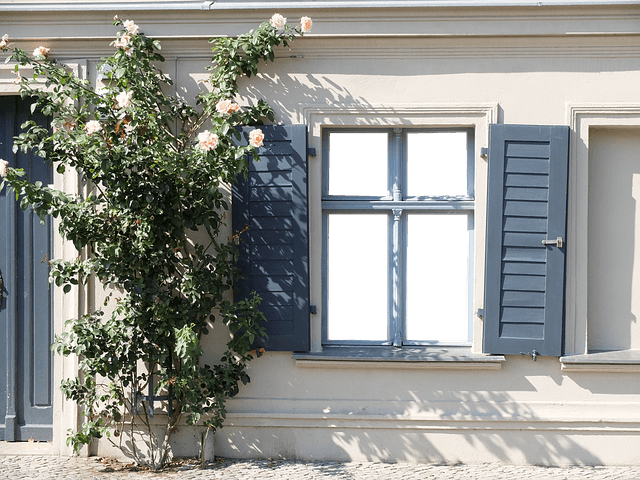 Shutters are protective and/or decorative devices that are hung from a building to protect windows, doors, and other openings. They are made of metal, wood, plastic, or composite materials.
Types
There are two basic types of shutters:
Interior shutters are hinged and swing inwards. They hang from the sides of a window or door on a building's interior and allow light and air to enter a room. California shutters and plantation shutters have moveable louvers; however, many traditional shutters do not. Café shutters, full-height shutters, door shutters, and many other types of plastic shutters and vinyl shutters are also available.
Exterior shutters swing inwards or both inwards and outwards. They are designed to protect windows and/or doors from high winds and rain. Like interior shutters, exterior shutters also admit light and air. They may provide privacy and security.
Styles
Shutters are available in many different styles.
Bahama shutters or colonial shutters are equipped with handles that can be used to adjust the louvers. This type of exterior shutter also provides protection from the elements and offers sound-absorbing properties.
Roll shutters, or roller shutters, limit access to the interior of a building, making them suitable for home security applications.
Storm shutters and hurricane shutters are made of metals such as aluminum or steel. They protect glass widows and glass doors from flying debris.
Decorative aluminum shutters are also available. These low-maintenance products have either mitered corners or overlap corners, and either true louvers or non-traditional louvers.
Steel shutters are too heavy for many residential applications.
Counter shutters are designed for service counters, service windows, and other small openings.
Accordion shutters and hurricane panels are available from many shutter suppliers.
Features
Shutters consist of various parts. Divider rails are horizontal bars that create the top and bottom louver sections. Hanging hinges connect a shutter panel to the window jamb or to a hanging strip, a vertical band that extends along the length of the shutter. Standard shutter hinges have two leaves and connect a shutter to a mounting surface, or join two shutters together. Interpanel hinges are also available. They connect two single shutters (panels). Mortises are rectangular cavities in the shutter stile, a vertical bar that runs along both sides of a shutter panel. Mortises permit a tighter fit to the window or the hang strip. Rabbets are cuts or grooves along the edge of a stile and between two panels. They form a joint that helps block incoming light. Tilt bars move vertically and are used to adjust louver position. Window jambs are the vertical sides of a window opening.
Related Information
Engineering360—Innovative Building Materials that will Impact Future Architecture