Cable Trays Information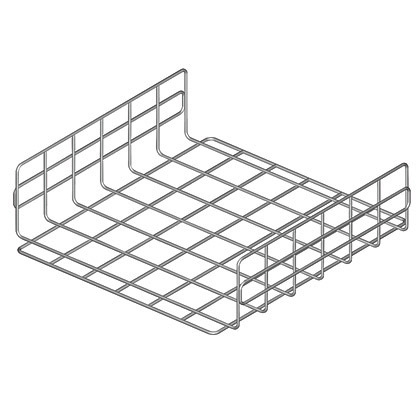 Cable trays are components of support systems for power and communications cables and wires. A cable tray system supports and protects both power and signal cables and facilitates upgrading, expanding, reconfiguring, or relocating networks. Most of these systems are open, allowing efficient heat dissipation and easy access for replacement and repairs. Although typically suspended from ceilings or affixed to walls, some cable tray systems are suitable for underfloor use. Tray systems are alternatives to wireways and electrical conduit, which completely enclose cables.
Materials
Metallic
Aluminum: Resists corrosion; excellent strength-to-weight ratio
Steel: Electric shielding; low thermal expansion
Stainless steel: Superior corrosion resistance; withstands high temperatures
Non-metallic
Fiberglass: Nonconductive; resists corrosion; lightweight
Types
The Cable Tray Institute recognizes six basic designs, described below.
| | | | |
| --- | --- | --- | --- |
| Tray Design | Ventilation | Support Span | Applications |
| Ladder | Maximum | 12-20 feet | Suitable for long spans |
| Wire Mesh | Maximum | 4 to 8 feet | Suitable for low voltage, telecommunications and fiber optic cable installations |
| Solid Bottom | Minimal | 5-12 feet | Delicate cables; use where there is minimal heat generation |
| Trough | Moderate | 5-15 feet | Additional cable support; use where heat generation is moderate |
| Channel | Varies | 10-24 feet | Cable drops and branch cable runs |
| Single Rail | Maximum | 10-12 feet | Used for data communication and power cables; quick to install |
| | | | |
Selection Criteria
Type and number of cables being supported

Environmental conditions: will the cables be exposed to harsh meteorlogical or building conditions?

Susceptibility to corrosion

Installed cable weight

Bending radius of the cable and cable tray

Cable entry/exit freedom: how difficult will running cable along the tray be?

Ease of installation

Expandability: can additional trays be added easily?

Amount of heat generated

Length of support spans
Standards
The National Electrical Manufacturers Association (NEMA) publishes several documents regarding cable trays.

NEMA VE1 covers general cable tray definitions, manufacturing standards, performance standards, test standards, and application information.
NEMA VE2 is a cable tray installation guideline.
NEMA FG1 covers fiberglass cable tray systems.

Articles 250, 318, 392, and 800 of the National Electrical Code (NEC) also cover various aspects of cable trays.
An electrical cable tray can be UL-classified if it is used as an equipment grounding conductor. Underwriters Laboratory (UL) and American National Standards Institute (ANSI) maintain ANSI/UL 568 for nonmetallic cable tray systems:

UL 568: Monmetallic Cable Tray Systems
A fiberglass cable tray can meet ASTM D-635 (flame rating and self-extinguishing requirements) and ASTM E-84 (smoke density rating).

The National Electrical Contractors Association (NECA) has a standard for installing metal cable tray systems:

NECA NEIS 105: Standard for Installing Metal Cable Tray Systems
Image credits:
Panduit Corporation | Cooper Industries (Ladder, Solid Bottom, Channel) | Legrand (Wire Mesh, Trough) | MP Husky (Single Rail)