Electrical Conduit Information
Electrical conduit is lengths of solid tubing used to house, protect, and cover electrical wiring and cables in power distribution systems.
Types
There are many standard conduit types.

Flexible metal conduits (FMC) have a helically wound, circular raceway and are often used at the ends of rigid runs.
Liquid tight flexible metal conduits (LFMC) have a sealed plastic covering over a flexible metal core.
By contrast, liquid tight flexible nonmetallic conduits (LFNC) feature a liquid tight jacket over a flexible, nonmetallic core.
Intermediate metal conduits (IMC) have rigid, circular raceways with thinner walls than rigid metal conduits (RMC).
Galvanized rigid conduits (GRC) are made of metal and coated with zinc for increased resistance to abrasion and corrosion.
Rigid nonmetallic conduits (RNC) are made of plastic and used in areas that are wet or corrosive.
Nonmetallic underground conduits with connectors (NUCC) are somewhat flexible, corrosion-resistant devices with internal, factory-installed electrical conductors.
Electrical metal tubing (EMT) conduits are relatively easy to bend, cut and form.
Electrical nonmetallic tubing (ENT) conduits are circular and usually corrugated.
Selection Criteria
Electrical conduit differs in terms of shape and function. Both straight and angled products are commonly available. Adapters are used to connect two different types of pipes.
Selecting electrical conduit requires an analysis of sizes, schedules, fitting ends, and features. Standard U.S. sizes range from ½" to 6". Products that are measured in metric units such as centimeters (cm) are also available.
For angled devices such as elbows and sweeps, radius is an important consideration. Schedule sizes are standards that define the inner diameter (ID), outer diameter (OD) and wall thickness. Some fitting ends use male or female pipe threads. Others use plain, flanged, or flared ends.
In terms of features, some products provide magnetic shielding or are part of an integral coupling. Others have an architectural finish or are liquid tight.
Materials
Electrical conduit is made from many different materials.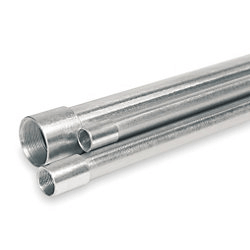 Aluminum is a metallic element that provides good electrical and thermal conductivity, high reflectivity, and resistance to oxidation.
Stainless steel is chemical and corrosion resistant and can have relatively high pressure ratings.
Some aluminum and steel conduits and fittings are coated with polyvinyl chloride (PVC), a flexible polymeric material.
Other products are galvanized with zinc or coated with urethane, a class of materials that exhibits good elongation, recovery, and toughness.
Electrical conduits that is made from nylon, PVC, polyester, and polyethylene is also available.
Standards
References
Image Credits:
Sealcon LLC | 1-Source Electronic Components | Grainger Industrial Supply