Carrying Cases and Equipment Cases Information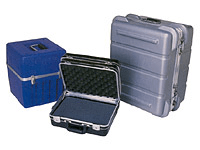 Carrying cases and equipment cases protect contents from shock, impact, water, sunlight, and dust.
Carrying cases represent a wide variety of products featuring diverse shapes, sizes, construction materials, and characteristics. This large range is due to the fact that cases are often designed to contain a specific item or material and must be manufactured accordingly. Other cases are more standard in size and shape but are unique in application; for example, some cases may be intended for shipping purposes and constructed using heavy duty materials, while others are made from lighter materials and are designed to be easily carried or transported by hand in consumer applications.
Buyers looking to select a case should first ask themselves two questions: 1) What item(s) need to be protected by the case? and 2) What will the case be used for? By answering these two questions and learning about the case types described below, a buyer can easily choose the best case for his or her application.
Specifications
Type
Carrying cases and equipment cases may be classified according to several different principles which are not mutually exclusive: a case's construction and features, the case's intended contents, or its intended environment or application.
ATA Cases
ATA cases are manufactured to meet the requirements of the Air Transportation Association of America (ATA), now referred to as Airlines For America (A4A). ATA/A4A is America's oldest airline trade association and is responsible for publishing specifications and standards related to air travel. ATA-300 is a well-known standard for reusable shipping cases and containers and defines three categories of flight cases:
ATA Category I products are designed to withstand at least 100 one way trips of normal cargo handling.

Category II cases can withstand up to 10 one way trips of normal handling.

Category III cases are rated to withstand one (1) trip.
Cases specified as ATA products are usually Category I rated, as this is the superior specification. Category I cases must feature:
Thick laminated panel construction

Polyfoam cushioning to protect contents

Heavy steel corners, latches, and hinges

Recessed latches and handles
Most any of the basic case types described below may meet ATA 300, especially if it is designed to be shipped or subjected to frequent travel.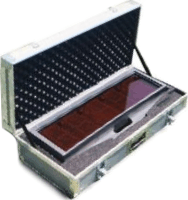 A typical ATA 300 Cat I case. Image credit: Electronumerics
Basic Case Types
| | | |
| --- | --- | --- |
| Case Type | Description | Image |
| Audio/visual | Store and transport audio/visual equipment. May include or be distinct from camera cases. | Image credit: South Pak |
| Briefcase | Designed to transport papers and documents in a professional setting. | Image credit: overstock.com |
| Computer/laptop | Storage and/or shipment of computers or laptops. | Image credit: OhGizmo |
| Firearms | Used to store and transport rifles, shotguns, and handguns. May include integral safety features. | Image credit: Tactical Life |
| Hazardous storage | Designed for storage and/or moving of flammable, corrosive, explosive, or otherwise hazardous materials. | Image credit: SaveLives |
| Heavy duty | Classified by manufacturer as "heavy duty." Likely to be ATA rated. | |
| Instrumentation | Store and carry instrumentation equipment. | Image credit: Wolfson |
| Musical instrument | Storage and transport of musical instruments; often ATA rated for frequent travel. | Image credit: KDI Music |
| Rack | Designed to stack and lock; common rack size is 19" (telecom rack). | Image credit: ECS Case |
| Suitcase | Designed to transport clothing. | |
| Tool | Tool storage and transportation. | Image credit: ContractorsTools |
| Tradeshow/exhibition | Constructed for transportation of tradeshows and exhibits. | Image credit: PhillyCase |
| Watertight | Designed to protect contents from water and moisture. | Image credit: OpticsPlanet |
Material Construction
A carrying case's materials are likely reflective of its intended use or contents, as certain materials offer inherent advantages and characteristics.
Cardboard/paperboard cases are made of wood pulp and are typically suitable for light duty applications.

Fabric materials include cotton, canvas, and synthetic fabrics.

Foams are created by introducing gas bubbles into a polymer, resulting in a lightweight cellular product with good insulating characteristics and impact resistance.

Glass is a hard, brittle material which is usually transparent or translucent.

Leather is created by tanning hides, primarily those of cattle.

Metals include aluminum and steels. These materials are durable, strong, and feature good chemical and corrosion resistance. Some case components may be composed of metallized film.

Polymers include a large variety of lightweight compounds. Cases may be constructed of polymers such as acrylonitrile butadiene styrene (ABS), plastics, polyethylene (PE), and polyvinyl chloride (PVC). Polymers are typically highly chemical resistant but some may be prone to cracking when under environmental stress.
Special Features
Cases designed for specialty applications may be designed with an array of special features or enhancements. Cases may be built to be airtight, resistant to electromagnetic interference (EMI), insulated so as to store food or other perishables, and resistant to static.
Standards
Standards related to carrying cases are often rolled up into the product standards which the case is designed to protect. Many military standards, however, are published specifically for carrying cases. Specific standards include:
A-A-52041

(Carrying cases for computer supplies)

MS 91662

(Storage/carrying case for animated transparency)
References
Image Credit
Isotech, Inc.