From
Adaptive Optics for Vision Science
10.3.3 Light Path

The light path in an AOSLO can be thought of as a series of telescopes that
relay the light to the various elements that act on the beam. For example,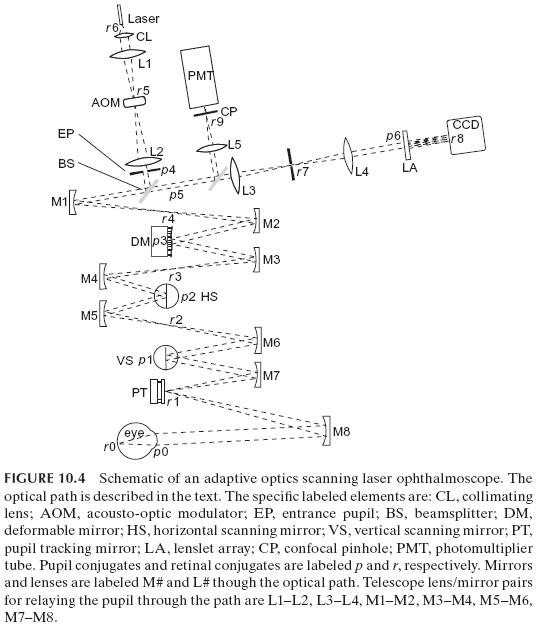 wavefront sensing (p6 in Fig. 10.4), wavefront correcting (p3), and tip and tilt
adjustments (p1 and p2) for raster scanning the beam all need to be done in
a pupil-conjugate plane. At present, each of these actions is done with a separate
component, and hence, a telescope is required to relay conjugate images
of the pupil to the various components. So the AOSLO is comprised of five
different telescopes that relay the light to six different pupil-conjugate positions
(aside from the actual pupil). To consider the optical path in this way
makes calculations of the magnification of the system simple since the relative
magnification between any two pupil-conjugate planes is the product of the
magnification of the telescopes that lie between them. Likewise, the retinal-
conjugate paths are connected by a series of telescopes made up of the same
mirror lenses.

Maintaining conjugacy is critical in an AOSLO. If, for example, the pupil
is not conjugate to the scanning...
More >>
Show More...
© 2006
---
Products & Services
---
Topics of Interest