500VA, IP66-rated pure sine wave inverters
Featured Product from ABSOPULSE Electronics Ltd.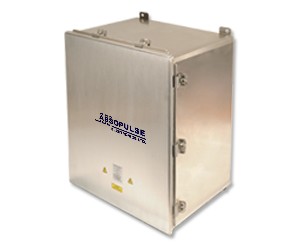 ABSOPULSE's CSI 500-D5H (IP66) Series heavy-duty DC-AC inverters delivers up to 500VA pure sine wave output voltage. The units provide 115Vac at 60Hz/400Hz, 230Vac/50Hz or custom. Inputs include 24V, 36V, 48V, 125V, 250Vdc or custom.

The CSI 500-D5H (IP66) inverters are designed for rugged applications that require protection from the ingress of water from powerful jets, dust, fog, sand, oil, salt, insects and other environmental contaminants. The units are packaged in a D5H IP66-rated diecast aluminum enclosure with sealed circular connectors.
500VA industrial quality DC-AC sine wave inverters;
IP66 rated diecast aluminium package;
Nominal input: 24V, 36V, 48V, 125V, 250Vdc or custom – wide input ranges;
Output: 115Vac or 230Vac continuous at required frequency, or custom;
High frequency PWM technology – high frequency;
Application-specific vents for pressure equalization;
Sealed, circular connectors, MIL connectors or cable glands;
Internal module ruggedized and conformal coated;
0°C to +50°C operating temp. range for full specification. Wider operating ranges are available.
EMI: EN 55032 Class A with margins (Class B available);
Cooling: conduction and natural convection;
IP66-rated D5H enclosure: 356 x 406 x 259 mm (14" x 16" x 10.18") W x H x D.
ABSOPULSE Electronics is an Original Equipment Manufacturer (OEM) specializing in the design and manufacture of an extensive range of heavy-duty industrial and railway quality power conversion solutions. Contact us to discuss your application requirements.

Please refer to CSI 500-D5H for the data sheet and further information about this inverter.