ENVIRONMENTAL CONTROL FOR CRITICAL APPLICATIONS
Featured Product from Air Innovations, Inc.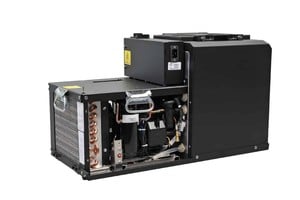 ABOUT OUR OEM ENVIRONMENTAL PROCESS CONTROL SOLUTIONS:
Our specialty HVAC and environmental process control solutions for original equipment manufacturers (OEM) can be found around the world in a wide variety of applications. We've designed OEM custom climate control solutions for scanning equipment for homeland security, desiccant humidity conditions and temperature control within medical equipment, explosion-proof temperature-regulated systems in gas-emitting environments, and a variety of other OEM climate control solutions. (See our case studies below for some specific environmental control solutions we have created for OEMs).
Every process control solution we develop is designed to meet our client's precise specifications in packaging and performance. Here are some specifics:
Temperature – Control tolerances as precise as +/- 0.01°C
Humidity – Control tolerances to +/- 0.5%
DX, chilled water, or thermoelectric capabilities
Broad filtration capabilities – HEPA, ULPA, molecular
Pressure
WHAT ARE THE BENEFITS OF OUR OEM CUSTOM CLIMATE CONTROL?
Innovative concept development
Multi-disciplined engineering team
Prototyping and testing
Manufacturing–small runs to mass-produced
Regulatory submissions
24/7–service and warranty support
International distribution