Military Environmental Control Systems
Featured Product from Air Innovations, Inc.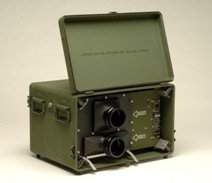 At Air Innovations, we combine advanced equipment and knowledgeable staff to develop ECU solutions specifically for use in harsh and rugged military settings. Our team possesses the capability to tailor ECU solutions to serve in unique or mission-critical applications. We machine to strict tolerances, implement stringent cleanroom production standards, and prepare all military equipment we build for use in some of the harshest conditions around the world.
Our military ECU capabilities cover a range of parameters:
Pressure control
Temperature control tolerances to +/- 0.01° C
Relative humidity control tolerances to +/- 0.5%
HEPA, ULPA, or molecular filtration
Enclosure sizes ranging from benchtop to room-sized
Dehumidification (ultrasonic)
UV air sterilization
Severe duty-ruggedization
Contact us with your project inquiry today!