SPIROL Expands eCommerce to Include Inserts
Featured Product from SPIROL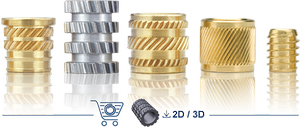 SPIROL has recently expanded their eCommerce platform, Shop.SPIROL.com, to include their expansive Threaded Inserts for Plastics product line.
SPIROL offers different styles of Threaded Inserts to suit the plastic type, installation preference and performance requirements of the assembly. Standard Threaded Insert styles include: Press-In Inserts, Self-Tapping Inserts, Heat / Ultrasonic Inserts and Molded-In Inserts, with each style available in both inch and metric threads.
In addition to offering a comprehensive line of Threaded Inserts for Plastics, SPIROL also offers complimentary Application Engineering support. SPIROL's Application Engineering Team will review your application details and assembly requirements, and assist in not only selecting the most appropriate Threaded Insert, but also in recommending the hole size, tolerance and boss diameter for both the host and mating components.
If installation equipment is required, SPIROL also offers a standard line of Threaded Insert Installation Equipment, from manual to fully automatic modules, customized to suit your particular needs.
Visit SPIROL.com for more information about SPIROL's Threaded Inserts for Plastics, request Technical Support, view the latest Inserts for Plastics Design Guide, submit a quote, purchase parts, or download our 2D / 3D drawings for your project!
# # #
About SPIROL
SPIROL is a leading expert in fastening, joining and assembly. We are a technical resource that provides high quality components that improve the quality of your assembly, extend the life of your products and reduce your total manufacturing costs.
We are a global manufacturer of engineered fasteners, installation machines, and parts feeding equipment producing over two billion components annually. In addition to high quality products, SPIROL has Application Engineers throughout the world to assist you in your designs, supported by state-of-the-art manufacturing centers and global stocking facilities to simplify the logistics of delivering your product.
Contact SPIROL early in the design stage of your next project for complimentary Application Engineering Assistance!