Regions Analysis Tool for Mx™ Software
Featured Product from Zygo Corporation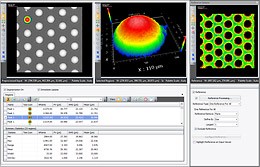 The Regions Analysis tool, standard equipment in ZYGO's Mx™ software for our optical profilers, allows you to isolate specific regions of a data set for discrete or group analysis. The individual regions of interest can be defined automatically by the software, or manually selected by the user. Mx software's palette of measurement results may be employed for each individual region, or multiple regions may be analyzed as a group, with full statistical data.
Regions Analysis can provide invaluable data for a host of industries, including semiconductor, MEMS, microfluidics, precision machining, micro optics, and consumer electronics. Some examples are:
• Semiconductor: isolate features and quantify heights and sizes
• Microfluidics: characterize trench depths and widths in relation to the surface
• Precision Machining: measure step height and relationships of sealing surfaces
• Wafer-Based Photonics: measure lenses separately from their substrates
These are just a sampling of applications that can benefit from the advanced data provided the Regions Analysis tool.
Watch and Learn
Be sure to watch our two-part instructional video that explains the features and configuration of the Regions Analysis tool. Part 1 is an overview of the tool's capabilities and explains the data outputs. After watching part 1, sign up for Part 2 which provides a step-by-step walkthrough for configuring the software and reading the results.