On-Demand Webinar:
Industrial Processing
Time:
1 PM EST (10 AM PST /
7:30 PM CET)
Overview
This presentation examines the functionality and system design (electronic) of various types of I/O modules, the building blocks of PLC-based control systems. It discusses emerging trends in automation such as connectivity, processing, and functional safety which have led IC manufacturers to offer newer technology through programmable, integrated solutions with lower power consumption and diagnostic features in innovative packages. Learn about these various advances in electronics today and the mutual reinforcement that is occurring with advances in automation - driving new electronic designs and vice-versa.
Key Takeaways
Understand the functionality of different types of I/O modules
Delve into the architecture and electronic system design of these modules
Learn about emerging trends in industrial automation
Discover the latest electronic technology and products to address these trends
Get insight into the trade-offs involved in the design of these electronic systems
Speaker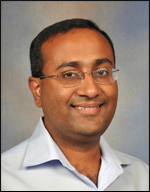 Navin Kommaraju
, Engineering Manager, Texas Instruments
An Engineering Manager at Texas Instruments, Navin Kommaraju is responsible for all product development of industrial precision D/A converters - from strategic marketing to design, test, and release to market. His 16 years of semiconductor industry experience include design engineering as well as business development positions. Kommaraju holds a B. Tech in Electrical and Electronics Engineering from the Indian Institute of Technology, an M.S. in Computer Engineering from Iowa State University, and an MBA from the McCombs School of Business at the University of Texas at Austin.