Chutes Information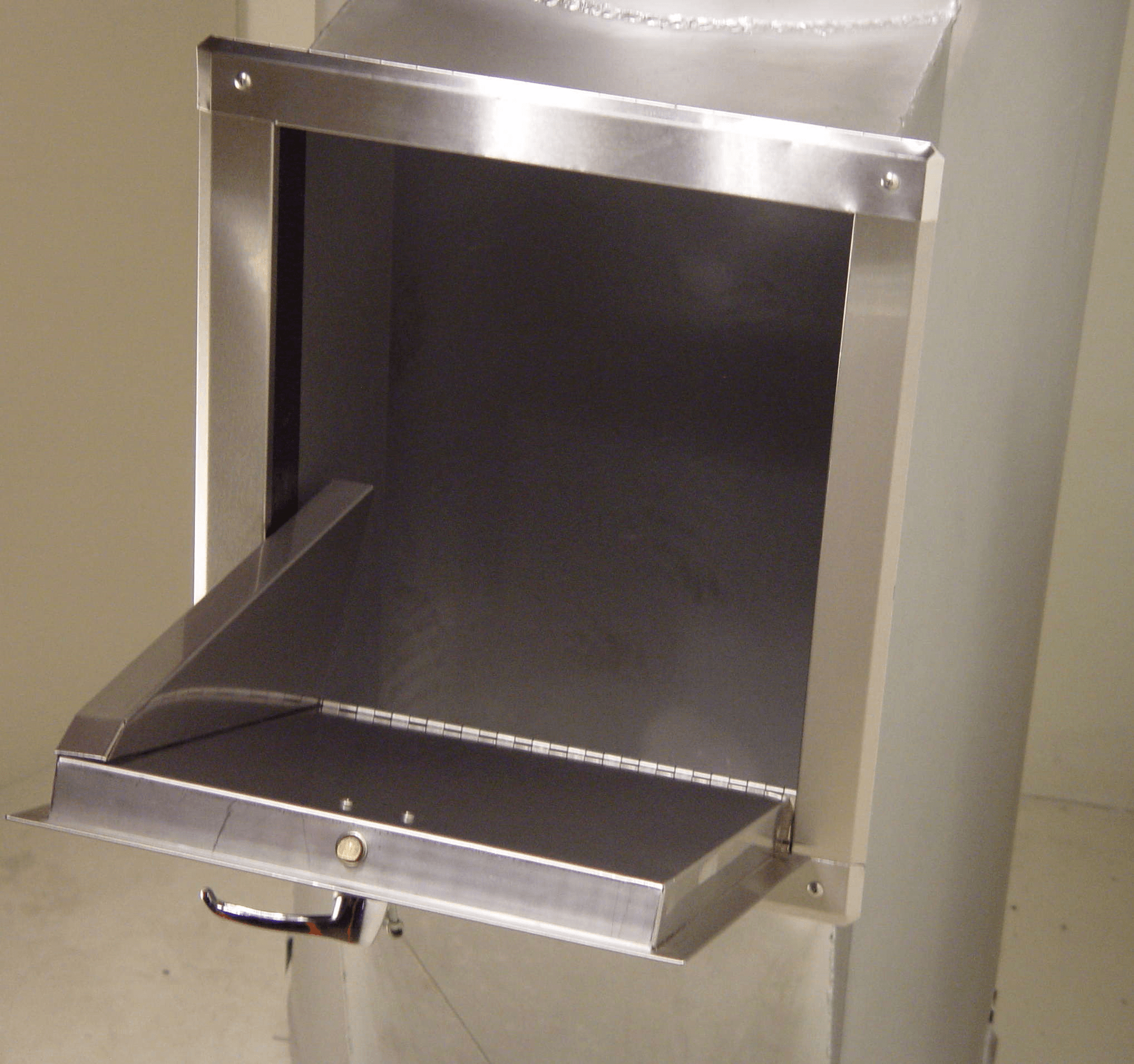 Chutes are assemblies that are used for the quick evacuation of materials from an elevated work location. They use gravity to guide the flow of materials into a bin.
Specifications
Most chutes consist of:
an intake section with an integral door
a long expansion section through which materials pass
floor braces for support
an outlet door that can be closed in case of fire
Often, sprinkler heads and flushing heads are installed both at the top of the chute system and at multiple locations along the chute riser.
Features
Some chutes have features such as a sanitizer, or a floor support grid. Others have spiraled expansion sections, coatings, and isolator pads for sound dampening.
Types
There are many different types of chutes. Examples include:
debris chutes
linen chutes
garbage chutes
waste chutes
Debris chute systems are used on construction sites and may be as long as 200 ft. With larger systems, chute hoists are used to lift, lower, and anchor the debris chute. Debris netting and portable guardrail systems may also be used. Linen chutes and laundry chutes are used in hotels, hospitals, schools, and nursing homes to transfer and collect dirty linen and laundry. Garbage chutes and rubbish chutes are used in office buildings, high-rise apartments, condominiums, and other buildings with multiple floors. Separate garbage chute systems may be used to separate dry waste from wet waste. Specialty chutes are also available.
Materials
Most chutes are made of metals such as aluminum or steel, or durable plastics such as polyethylene (PE). Aluminum chute systems are lightweight with good corrosion-resistance. Most products are cast, wrought, extruded, forged, cold-finished, hot-rolled, or formed by compacting powdered aluminum or aluminum alloys. Steel chute systems are produced through a metalworking process called cold-rolling. Often, these material handling products are made of commercial-grade steels and coated with aluminum or zinc for corrosion resistance. High-density polyethylene chutes are also available. Typically, PE chutes are UV-stabilized to prevent degradation caused by ultraviolet (UV) rays. High-density polyethylene resists abrasion and cracking under high temperatures.
Standards
Chutes carry dimensional specifications such as length, thickness, diameter, width, and weight. They may comply with standards such as NFPA 82 or OSHA, Part 1926.856. NFPA 82 is a standard from the National Fire Protection Association (NFPA) for waste and linen handling systems and equipment. OSHA 1926.856 is a standard from the Occupational Safety and Health Administration (OSHA) that establishes guidelines for the removal of walls, floors, and building materials with equipment such as chutes.
Related Information
CR4 Community—Coal in Transfer Chutes Tubular vs. Square
Engineering360—Hudson Yards is Transforming West Side Manhattan
Image credit:
Hcwood / CC BY-SA 3.0