Valve Positioners Information
Valve positioners compare a control signal to a valve actuator's position and move the actuator accordingly. They are used with both linear valves and rotary valves. Valve positioners are used when the 0.2 to 1 bar pressure in the diaphragm chamber is not able to cope with friction and high differential pressures.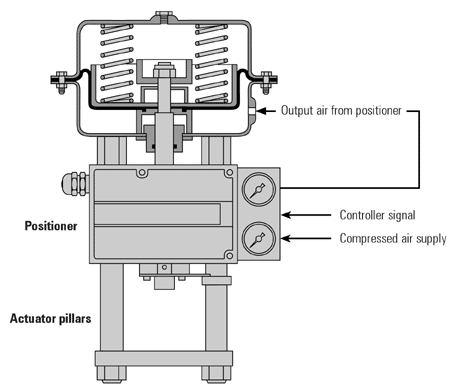 Image Credit: Spirax Sarco
The positioner is fitted to the yoke of the actuator and is linked to the spindle of the actuator by a feedback arm in order to monitor valve position. When a control signal differs from the valve actuator's position, the valve positioner sends the necessary power to move the actuator until the correct position is reached. This uses a high air supply.
Positioners should be installed if the valve is intended for use in a control application.
Types of Valve Positioners
There are four basic types of valve positioners: pneumatic, electronic, electro-pneumatic, and digital.
Pneumatic devices send and receive pneumatic signals. They are intrinsically safe and can provide a large amount of force to close a valve.

Single-acting or three-way pneumatic positioners send air to and exhaust air from only one side of a single-acting valve actuator that is opposed by a range spring.

Double-acting or four-way pneumatic positioners send and exhaust air from both sides of the actuator.

Electric valve positioners send and receive electrical signals. There are three electric actuation types: single-phase and three-phase alternating current (AC), and direct current (DC) voltage.

Electro-pneumatic valve positioners convert current control signals to equivalent pneumatic signals.

Digital or "smart" devices use a microprocessor to position the valve actuator and monitor and record data. They are very accurate, use less air than analogue positioners, and allow for online digital diagnostics.
Performance Specifications
Performance specifications for valve positioners vary by pneumatic input signal range, maximum supply pressure, milliampere input signal range, split range, operating temperature, and output action.

Pneumatic input signal range and maximum supply pressure are measured in pounds per square inch (psi).

Split ranges commonly include 4 – 10 mA and 12 – 20 mA. Two-way, three-way, and four-way splits are available.

There are three types of output actions: direct, reversible, and field reversible.

Direct action devices increase the output signal as the input signal increases.

Reversible action devices decrease the output signal as the input signal increases.

Field reversible products can be switched between direct and reversible action.
Features
Intrinsically safe (IS) valve positioners do not produce sparks or other thermal effects that would ignite a specified gas mixture. Devices that are made from stainless steel are used in corrosive or high temperature environments. The valve positioner should also come with a valve position indicator that suits the intended application.
Applications
Valve positioners differ in terms of applications, features, and approvals. Some products are designed for automotive, aerospace, marine, medical, or military applications. Other products are suitable for food processing or pharmaceutical applications. General-purpose devices are commonly available.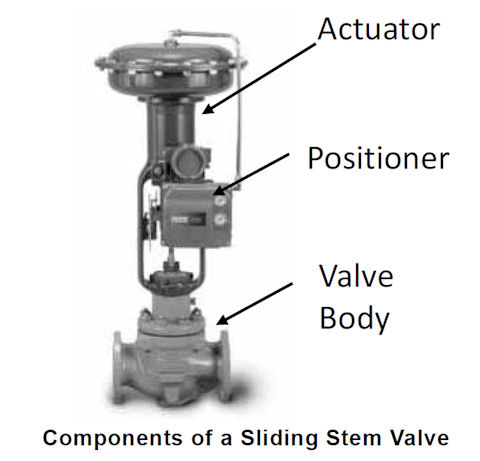 Image Credit: Modeling and Control.com
Standards
Common approvals for valve positioners include marks from the Canadian Standards Association (CSA) and Underwriters Laboratories (UL), an independent testing organization. Additional standards can be found at the IHS standards store.
BS EN 60534-6-1 - Industrial-Process Control Valves Part 6: Mounting Details for Attachment of Positioners to Control Valves Section 1: Positioner Mounting on Linear Actuators

IEC 60534-6-2 - This part of IEC 60534 is intended to permit a variety of positioning devices, which respond to a rotary motion, to be mounted on the actuator of a control valve, either directly or by employing an intermediate mounting bracket.
Resources
Control Valve Actuators and Positioners
Commissioning Control Systems - Valve Positioners
Image Credit: Asahi/America, Inc. | BI-Torq® Valve Automation
Read user Insights about Valve Positioners