Deburring and Chamfering Tools Information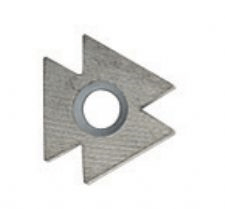 Deburring and chamfering tools remove flashing and other unwanted edge properties caused by cutting or machining. Deburring tools remove burrs and smooth parting lines, jagged edges, or protuberances on the surface of an object created during machining or casting operations. A deburring tool greatly improves the quality and functionality of metal and wood pieces, making it a necessary use of time and a cost effective process. Chamfering tools are used to create a beveled edge at the intersection of two surfaces, typically at 45 degrees.
Types
There are three types of deburring and chamfering tools; manual, rotary, and deburring blades.
Manual deburring tools are the most popular. They are hand-held tools which have a handle and a deburring blade. Many tools have replaceable blades that can be changed when worn or for different applications.
Rotary deburring and chamfering bits, or cutting tools, are used with drills and other power tools. They are used for thicker materials, deburring cross-drilled holes, high volume production jobs, and other applications that would be difficult or time consuming to perform manually.
Deburring blades are used with manual deburring tools. Blades are manufactured in a variety of configurations, depending on the application.
Deburring and chamfering tools may be configured for specific applications, such as chamfering of holes or edges, or deburring cross-drilled holes, external diameters, internal holes, keyways, slots, sheets, ribs, straight edges, and manually countersinking holes.
Features
These available features apply to manual deburring tools only.
Heavy duty - Heavy duty tools are typically stronger and more rigid tools.
Internal blade storage - Tool has internal storage for spare blades, typically within the tool handle.
Replaceable blades - The tool blades can be replaced when worn.
Rotating blade- Tools with rotating blades allow for continuous rotation of the tool while deburring.
Telescopic handle - The tool has a telescopic handle for applications requiring a longer reach.
Application
Video credit: Simple Little Life / CC BY-SA 4.0
Deburring tools are used in many product applications. Examples include their use in zinc die castings, aluminum die castings, screw machine parts, hydraulic valves, pneumatic valves, forgings, and instrumentation. Deburring tools are ideal for small castings, surface finishing, precision stampings, forging and better finish. Deburring machines are designed for light deburring, polishing and cleaning small, light precision parts. They are suitable for all types of materials such as brass, steel, stainless steel, zinc, cast iron, thermoplastics, platinum, and aluminum, hard plastic, copper, gold, and silver.
Image credit:
Titan Tools